Goggle Review: Sable Water Optics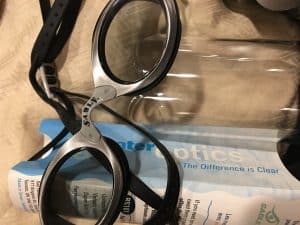 Now, I've tried a lot of goggles. I actually go through a few pair a season. I usually buy ones that are prescription. But this time, when I went to the Aquatic Center in Eisenhower Park, I tried the Sable Water Optics.
The first thing I noticed when I slipped it on, it was comfortable. You know how some of these goggles are just not comfortable? Often when I finish swimming, I look like a raccoon!
The other thing that was apparent was the clarity of the lenses. They weren't prescription and yet, I felt like I could really see. It was incredible!  (But don't touch the inside lens because if you do, it could take off the anti-fog coating.)
The Sable Water Optics have a split strap that secures positioning during training or racing. Here are some other features:
low drag prevents undue pressure against eyes (hence, no raccoon eyes!)
low profile fluted frame provides wide view
different nose bridges for perfect fit (although right out of the box, the goggles fit me)
durable and light weight
precision polycarbonate lenses
super anti-fog uses hydrophilic action to prevent fogging (and if you wear goggles for swimming, you will know that this is rare)
flat lens technology that eliminates distortion
has UVA/UVB protecntion
comes in all different prescriptions too
The nice thing about these goggles, they have a lifetime frame warranty. The company will replace the frames if they break. And, if the lens breaks, they will replace that as well.
I was very impressed with these goggles. I liked the feel, the look and the way I saw in the water. What else is there to look for when selecting the right goggles?  Whether your existing goggles fog up all the time or they just are not comfortable, check out TriSports and pick up a pair of these handy, comfortable goggles that will last a lifetime!
They retail for $44.99. This post was sponsored by TriSports.com for all your triathlon needs!