I had a pair of the original Jaybird headphones a few years back. They had a wire that connected the set but used Bluetooth technology. At the time, I was impressed. Now, I'm even more impressed with the Jaybird Vista. Here's my review.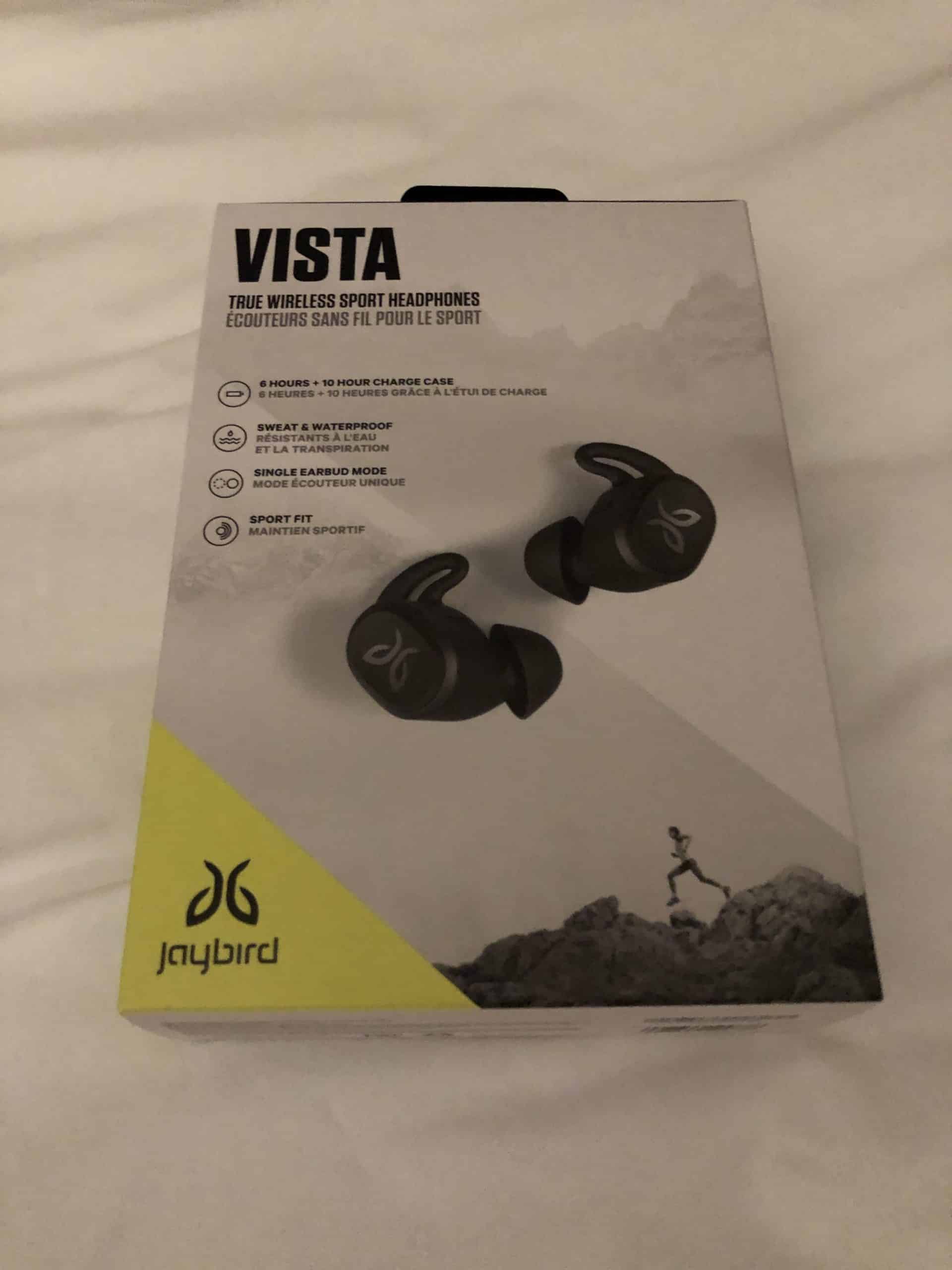 Jaybird Vista
These little buds fit securely in your ears. I was actually amazed at how well they fit since I have small earbuds and often have trouble keeping the headphone buds in place. They fall out and I lose them and then, I'm an unhappy camper. However, Jaybird Vista seems to stay in place!
The Jaybird Vista earbuds have no wire and come with a variety of sizes for different ears. So if the ones that it comes with doesn't work for you, you can swap it out.
Other features include
*IPX7 Waterproof & Sweatproof, meaning that when it's raining or snowing out, no fear, your buds will not get ruined.
*You can take calls wearing the Jaybird Vista.
*Wireless technology and has premium sound.
Charging Feature
There are lots of unique features unlike some of the other models. For starters, the buds have a handy little case that charges the buds. The buds last for six solid hours and the case lasts for 10 hours! When the battery runs down, you plug in the case into a USB connection and they easily charge back up.
Jaybird Vista App
The app is really cool. It has a custom equalizer in it that enables you to find levels that work for you. For example, if you like to hear more bass, then you can turn it up. Or, on the flip side, if you prefer more tremble, you can turn that up or down as well.
The app will also custom adjust the equalizer to suit your hearing preference. It takes you through a series of hearing tests and after that, will adjust as they see fit.
You can also choose manual preferences as well. There are settings that make the sound more flat for podcasts or if you are listening to electric dance music, it will adjust accordingly.
Sync with my iPhone
I wasn't sure if it would sync up with my iPhone, but once I installed the app, turned on my Bluetooth, found the Jaybird Vistas, I was all set to go out for a run.
Because of the noise cancellation, some people may prefer to just wear one bud and leave the other in the case. You can do that too with easy adjustments on the app so that the sound just comes out of one bud.
Taking them for a Test Run
I put the earbuds on and tried them out on both a run in Austin's Lady Bird Lake Trail and in the gym.
On the trail, I turned on my playlist from Apple Music and I was off. As I ran, I listened to my favorite music while running the trail. I wore both buds. There weren't many people on the trail and when I felt a bicycle approaching or another runner approaching, I moved over. I didn't keep the headphones turned high. I left them at a moderate level so that I could hear some of the external noise. Between running in beautiful surroundings and listening to my favorite tunes, I was in my happy place!
At the gym, I used them as well. As you know, the gym gets loud and I was able to block out that external noise and just tune in to my podcast. I ran on the treadmill, went on the elliptical machine, and then listed weights. The earbuds stayed in place!
My thoughts
I loved the Jaybird Vista earbuds and would highly recommend them. They were easy to insert, stayed in place during physical activity and the sound was incredible. You can pick them up in a store that carries them or on the website at https://www.jaybirdsport.com/. The retail cost is $179.99.