What do you think of when you hear the word "Naked?" My immediate thought, a group of people skinny dipping in the ocean. But in this sense, it means a supplement that only includes natural and pure ingredients.
What is Naked Nutrition?
Naked Nutrition is a relatively new company that uses only the purest ingredients on the market. From Grass-Fed Whey Protein to Pea Protein Powder to Organic Brown Rice Protein Powder, Naked Nutrition provides the purest supplements. Their proteins are loaded with essential amino acids and no artificial sweeteners or colors. Their commitment to offering the best protein powders and supplements extends to all our products including Powdered Peanut Butter, Casein Protein, Creatine Monohydrate and more.
Best thing about Naked Nutrition — no additives!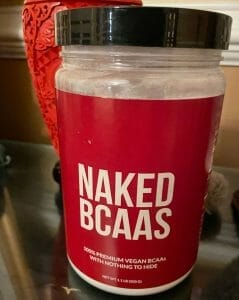 I started to take Branch Chain Amino Acids (BCAAs) after I read about their powering effects on the body. Many trainers through the years have recommended them to me but I never tried them. BCAAs promote muscle development, improved exercise performance, and provides faster recovery after workouts.
Naked BCAAs are the highest pharmaceutical grade, fast dissolving, and rapidly absorbed Branch Chain Amino Acids available.
What's inside the Naked BCAA?
The Naked BCAA has a 2:1:1 Ratio of L-Leucine, L-Isoleucine and L-Valine. There are no artificial sweeteners, flavors or colors. It is vegan, soy free, gluten free and GMO free!
Taking Naked BCAAs for a test drive
I typically drink an electrolyte drink when I work out, no matter what I'm doing. I started to replace this with Naked BCAA. The thing about Naked BCAA is that you don't taste anything. Mixed with water, it has no taste. So, you could conceivably mix with an electrolyte mix or with Gatorade.
After trying it on several swims, bikes and runs, I felt like I had more energy. I didn't feel like I could bonk. I felt so great and even after the workout I felt amazing using the Naked BCAAs. I'm planning on using Naked BCAA for all of my upcoming workouts.
Naked Greens is a premium daily greens powder. The green superfood powder blend contains six different organic vegetables and grasses along with organic pre-biotics, probiotics, and adaptogens. Naked recommends taking the Naked Greens daily to promote detox, stress reduction, and to support gut health and immune function.
What's in the Naked Greens?
Naked Greens consists of organic broccoli, organic alfalfa grass, organic kale, organic spinach, organic spirulina, organic wheat grass. It also has organic inulin, organic ashwagandha, organic panax, ginseng, and pro-biotics.
Taking the Naked Greens for a Test Drive
I don't eat enough greens. I know I'm not alone. But, I do love protein shakes and I drink them almost every day. So, instead of just having a protein shake with blueberries, protein powder, almond milk and walnuts, I decided to throw in the Naked Greens. WOW, is all I have to say! I was so amazed at how good it tasted.
The greens don't really have much of a flavor when you lick your finger and put in the jar to taste it. But, boy, did it make a difference on my shake. I was totally amazed!!!
Final Thoughts
We all take some sort of supplement for health and wellness. I was impressed with the Naked products because they are additive free, have no sweeteners and they are what they are. I would totally recommend them!
For Naked BCAA the price is $34.99 and you can get it here: http://bit.ly/3p90gwf
For Naked Greens, the price is priced at $29.99 and you can get it here: http://bit.ly/3ab3RWt