When my friend Nina Sadauskas approached me to tell me that she's starting her business using Delfina brand bathing suits and apparel, I was excited for her.
I told her that I would see if anyone in my group, WeREndurance, would want a designer bathing suit with our logo. She opened a store and added a ton of different items, including transition bags, towels, running kits, bathing suits and more.
She designed a bunch of items for me to share on social and with my group.
Here are some items. The apparel is an amazing, comfortable towel. There is also a running shirt made with a dry fit type fabric and a pair of running shorts. Also below is a triathlon transition bag and a bag for swimming (which I use for running).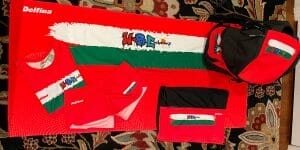 The fabric and the materials used are high end. I particularly like the bathing suit and should have ordered more! What I love about the bathing suit is it is sustainable and made from recycled fish nets!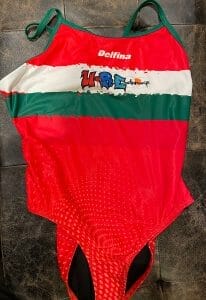 Nina recently started to work with the Betty Designs tri team and designed towels and other apparel for the team.
To find out how your team can benefit, write to[email protected]. Tell her that you saw her work on ATriathletesDiary.com.