At The Running Event in Austin, TX, I went to get insoles for my sneakers. While at one of the insole booths, I was recommended to go to OS1st and check out their products.
I headed over that way and spoke with a woman who seemed very knowledgeable. She told me that I should get a KS7 knee sleeve for my bad knee, an FS6 sleeve for my Achilles Tendonitis, and then a pair of thin socks to go over the wrap.
OS1st
The OS1st uses a very light, compression material that holds your "body part" in place. I particularly liked the knee sleeve because it had material on the top that kept it from slipping. In addition to that, it was the first time I wore a knee sleeve and it didn't bother the back of my knee. There are times I wear these wraps and I have to take them off because it puts a lot of pressure on my Baker's cyst. I found it very comfortable and could easily wear it all day!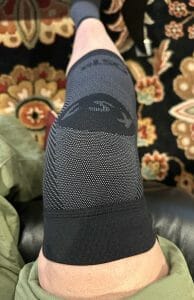 The ankle sleeve was interesting too. It had compression on both the midfoot and the ankle. I have issues where sometimes my toes feel numb and this product should alleviate that. It also helps with Achilles tendonitis and plantar fasciitis.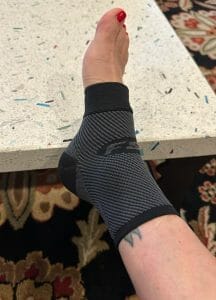 When I asked about wearing the foot and ankle compression and how I would wear a sock, the woman told me to get the OS1st lightweight socks. "They fit right over the sleeve," she said. She was right!
My impression
I'm very impressed with the OS1st products. They are comfortable, use nice fabric and do the job. I plan on wearing them for upcoming runs and even when I go skiing to protect my knee and my foot. I would recommend checking them out before buying one of these at a pharmacy.
The OS1st KS7 Performance Knee Sleeve is $24.99 online. It is available in both black and nude.
The OS1st FS6 Performance Foot Sleeve is $39.99 online. It is available in black, nude, and white.
The OS1st TA4 Thin Air Performance Sock is $14.99 online. It is available in a variety of colors and fits perfectly over the foot sleeve.