Every time I try on a pair of Skechers, I'm impressed. They make amazing sneakers that should not be overlooked. Hey, if they are good enough for Edward Cheserek, the Kenyan distance runner who is a 17-time NCAA champion collegiate distance runner for the University of Oregon, then they are fantastic for all of us!
The two pairs that I got the opportunity to sample include the Skechers Go Run Ride 11  and the Skechers Go Run Maxroad 6.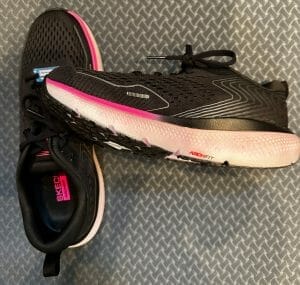 There are lots of amazing features of the Go Run Ride 11 including the Archfit insole that provides podiatrist-certified arch support. It has a breathable engineered mesh for comfort and support. (Other sneakers have this breathable mesh but those other sneakers push in my toes. These do not.)
They have HyperARC technology with promotes efficiency in each stride. They are carbon-infused which gives the forefoot a plate with an extremely high stiffness-to-weight ratio and promotes stability and next-level energy return. In addition, they have Hyper Burst ICE which is plush cushioning for a smooth ride.  Lastly, the bottom of the shoe has Good Year Performance outsoles for enhanced traction, stability, and durability.
As mentioned earlier, Edward Cheserek uses these shoes as his official training shoes. They are neutral, responsive, well-cushioned running shoes, that weigh 9.8 oz in the men's version and 7.6 oz in the women's version. They have a 6mm toe to heel drop.
The Go Run Ride 11 comes in two colors for men – black and blue; and two colors for women including black and pink
The price is $125.
What did I think?
I absolutely loved this shoe. It gives a lot of bounce, has abundant cushion under the foot and it grips the road. I found the Skechers Go Run Ride 11 to be a ton of fun and will be my go-to shoe when I go for a run! They were fun, bouncy, soft, and enjoyable. These are great all-around shoes and I would recommend them.
These shoes also have the ARCHfit, which provides podiatrist-certified arch support, has breathable mesh on the upper foot, and they also have a carbon-infused forefoot plate that offers an extremely high stiffness-to-weight ratio. This promotes stability and next-level energy. In addition to the Hyperburst ICE, for a soft and stable run, the Go Run Maxroad 6 has HyperARC which promotes efficiency and it also has the Good Year Performance outsoles.
The shoe is lightweight, neutral, responsive, and has a highly cushioned running shoe. The insoles are removable for a custom fit. the men's shoe weighs 10.9 oz and the women's shoe weighs 8.5 oz. They have a 6mm offset.
The men's shoe comes in black or lime. The women's shoe comes only in blue/lime. The price for the Go Run Maxroad 6 is $145.
What did I think?
I would comfortably compare this shoe with the HOKA Bondi. However, the Bondi is twice the price. The comfort in the Go Run Maxroad 6 was incredible. With every bounce, I landed on softness. My feet were never so happy!
These shoes are perfect for long runs and for training for a half, full, or ultra-marathon. I would certainly train in these shoes and would highly recommend them, especially if you like softness under your feet. The other interesting part of these shoes is that they really grip the road. I was shocked when I ran on the track with a variety of shoes trying to compare. These faired best at gripping and keeping me stable.
So if you are training for a long race, definitely consider checking the Skechers Go Run Maxroad 6 out. You won't be disappointed.
I would size a half-size up in the Go Run Maxroad 6 because I found them a little too snug in the toe box.
Wrap up
If you have never tried Skechers for running, I would recommend starting with either one of these sneakers. They are both excellent and happily, I continue to be impressed with what Skechers has produced and keeps producing!