In April 2020, I was supposed to do a sprint triathlon at St. Anthony's Triathlon in St. Petersburg, Florida. Then, in 2021, I was unable to attend because of the influx of COVID at that time. So, now in 2022, I finally get to do the Sprint!
Just for your reference, I raced here in 2019. It was my birthday and I decided to do the Olympic Triathlon. The Olympic is a .9-mile swim, 26-mile bike, and a 10K run.
This race was a 750-yard swim, 20K bike, and a 5K run. It was actually perfect since I am just getting over meniscus surgery and my knee is still not right.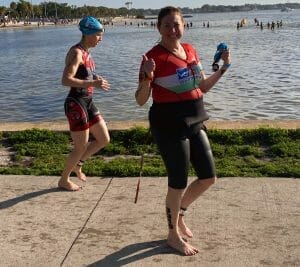 Getting to St. Petersburg
My plane was delayed Thursday afternoon so when I got to the Tampa airport it was late. Derek, my son, met me there. He had worked for the Tampa Rays last year and wanted to meet with some of his colleagues. He also came down to support me.
Making a mistake, I didn't book the Vinoy for all the nights we were there. So we stayed at a Hilton the first night.
Once we were at the Vinoy, I walked across the street and met up with TriBike Transport. (Two things here – 1) What's so great about this race is the Vinoy is very close to the race site. 2) TriBike Transport is an amazing company. Every time I work with them, I am totally impressed.)
Meeting with TriBike Transport
My bike and my gear bag made it safely to the triathlon transition area. The guy there was incredible. He put on my wheels and I was ready to rock 'n roll. (By the way, Sunrise Tri is also amazing. Frank helped me prep my bike.)
Collecting my number
I went to the expo, collected my number, and set up my bike. It was so easy. No hassle at all! That's one of the reasons why I love this race, it's because the organizers make it so easy.
Race Day
I got up at 5 am, got myself ready, and went downstairs. Thankfully, the coffee shop was open and I grabbed myself a cup of Joe. I had my huge ROKA transition bag with me and I walked to the transition area. The walk was approximately a half-mile from the front of the hotel. I was early. The sprint folks weren't taking off until 8:15/8:30 am. My coach, Danielle Sullivan of Iron Fit Endurance, told me to stay hydrated and get some "food" while I waited. Good advice!
At 6:30 am, we were told to leave transition and walk to the beach. At that point, I could have walked back to my hotel room but I didn't want to keep walking back and forth and back and forth so I followed the crowd to the beach.
Although I didn't want to wear my shorty wetsuit, Danielle talked me into it. "If it's wetsuit legal, wear it. It will make you go faster," she said. I complied.
The water was 75 degrees. It was absolutely perfect.  I went for a very relaxing swim to warm up as I waited for the elite and the Olympic folks to go off.
Swim Start
At about 8:05 or so, the announcer told the sprint athletes that it was time. There were so many people freaking about the water. I just shook my head and told them they would be fine. It was a short 750-yard swim. No big deal.
We lined up in twos and we had a running start into the water. I always find that running into the water is difficult. I try to do the high knees but it doesn't always go the way I want it to go.
I was so relaxed and ready to race. The 750-yard swim was done before I knew it. I estimated about 20 minutes to get it done. I did it in 18 minutes.
There were two hard parts here – 1) the water was low tide so people started standing up too fast. We were not even close to the dock. 2) I tried to swim as far as I could but I got caught up in the people walking.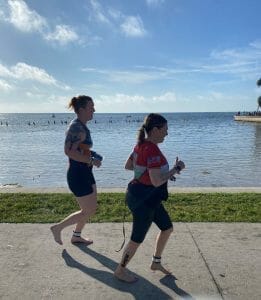 T1
Once we got out of the water, we had a half-mile run barefoot to the transition area. When I did the Olympic triathlon, we swam right to transition. This was hard and it killed my transition time.
Once I was in the transition area, I pulled off my shorty wetsuit, put on my helmet, and shoes, and off I went with the bike. I was totally in my happy place. I loved the swim and now I get to ride around St. Petersburg, woohoo!
Bike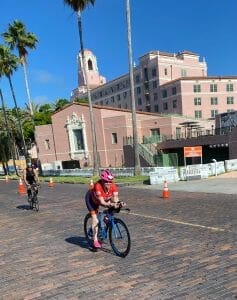 The bike was a 20K, approximately 12+ miles. It was so much fun. There were plenty of technical turns and I was getting caught up with a few of the bikes. Many people warned you that they were passing on the left. But there were plenty of people who didn't call it and that was annoying. They just came out of nowhere.
The bike goes around St. Petersburg and in the downtown area. You pass the Dali museum, a private airport, the soccer stadium, and the Rays Stadium. You also pass a slew of cool shops, restaurants, and boutiques.
I loved every moment of it.
As a matter of fact, I saw my friends Tom and Yves. They just happen to be in town and they spotted me riding through town. Tom said, "you were smiling the entire time." I was. I was so happy to be doing this!
Bike time: 16.6 miles per hour
T2
The second transition was much faster than the first one. I swapped shoes, put on a visor and my race belt, and was out of there.
Run
The run is absolutely beautiful and if I wasn't hurting, I would have been smiling the entire time. However, I saw people so much worse off than me and they were pushing it. It was inspiring.
The run follows the waterline and on one side you see the gorgeous harbor and on the other side, you see gorgeous homes.
I kept seeing Derek. He rented a bike and was following me on the bike. He is such an amazing kid and I am so blessed to have him in my life. (He took some great photos throughout the event, all shown here.)
Thankfully the run was short and I was glad about that. I ran through the finisher's chute with a smile on my face. I did it and it was over.
Run time: 13:45 per mile
When it was over…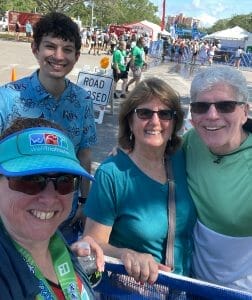 I saw Tom and Yves and I also saw Derek. We all talked for a while and it was so great to see them! Unfortunately, we couldn't get into transition until 12 noon, so Derek and I went back to the hotel, had lunch, and then walked back over to pack everything up.
After talking to Danielle, I realized that this was a PR for a sprint for me. I hadn't done many sprints and there were only a few others that had the same distance, but I PR'd it by 2 minutes. I felt proud.
Later that day, I was thinking about all the badass women and men in the 60+ category. I couldn't believe how kick-ass these people are and it makes me inspired. I hope I can continue to do this for another 10+ years! It's such a blast. I would totally miss it if I had to give it up.
Would I recommend this race?
Absolutely! I love this race so much, that I plan on coming back year after year! And, you should too! Just do it. You will thank me for it!