After booking St. Anthony's Triathlon in St. Petersburg, I immediately looked for options to transport my bike. TriBike Transport has been a partner of WeRTriathletes for the past couple of years. They offer our members' discounts on transporting one's bike to a race they support.
To be transparent, they gave me a comp on transport. I was excited to use TriBike Transport's services and share my experiences here on this blog.
Dropping off the bike
The company is extremely professional. They work with local bike stores to make it easy on the customer. I had a choice to drop by bike off at either Brickwell in Manhasset or Sunrise Tri in Babylon. Since Babylon is a little closer to my home, I thought I would use Sunrise Tri.
When I arrived at Sunrise, there was a young man who greeted me. "I'm going to St. Anthony Triathlon and was told to drop the bike off here," I said to him.
"Sure," he said and proceeded to take off my pedals. "You know most bike stores charge for the removal of your pedals, but we don't. We include it as a service."
TriBike Transport also took my gear bag, which included my helmet, wetsuit, towel, bike computer, and other valuables.
The employee wrote me up and off I went, a little worried about the bike because it was brand new and this would be my first race riding it.
Communication is key
The next day, I received an email from Tribike Transport that both my bike and gear bag was picked up and en route to Florida. How cool was that?
"Do you know if the bike is in Florida yet?" my cousin, Mindy asked me.
Immediately after she asked, I got a ping from TriBike Transport that my bike and gear bag arrived at the race site in St. Petersburg, Florida. I laughed. "What a coincidence," I thought.
Picking up the bike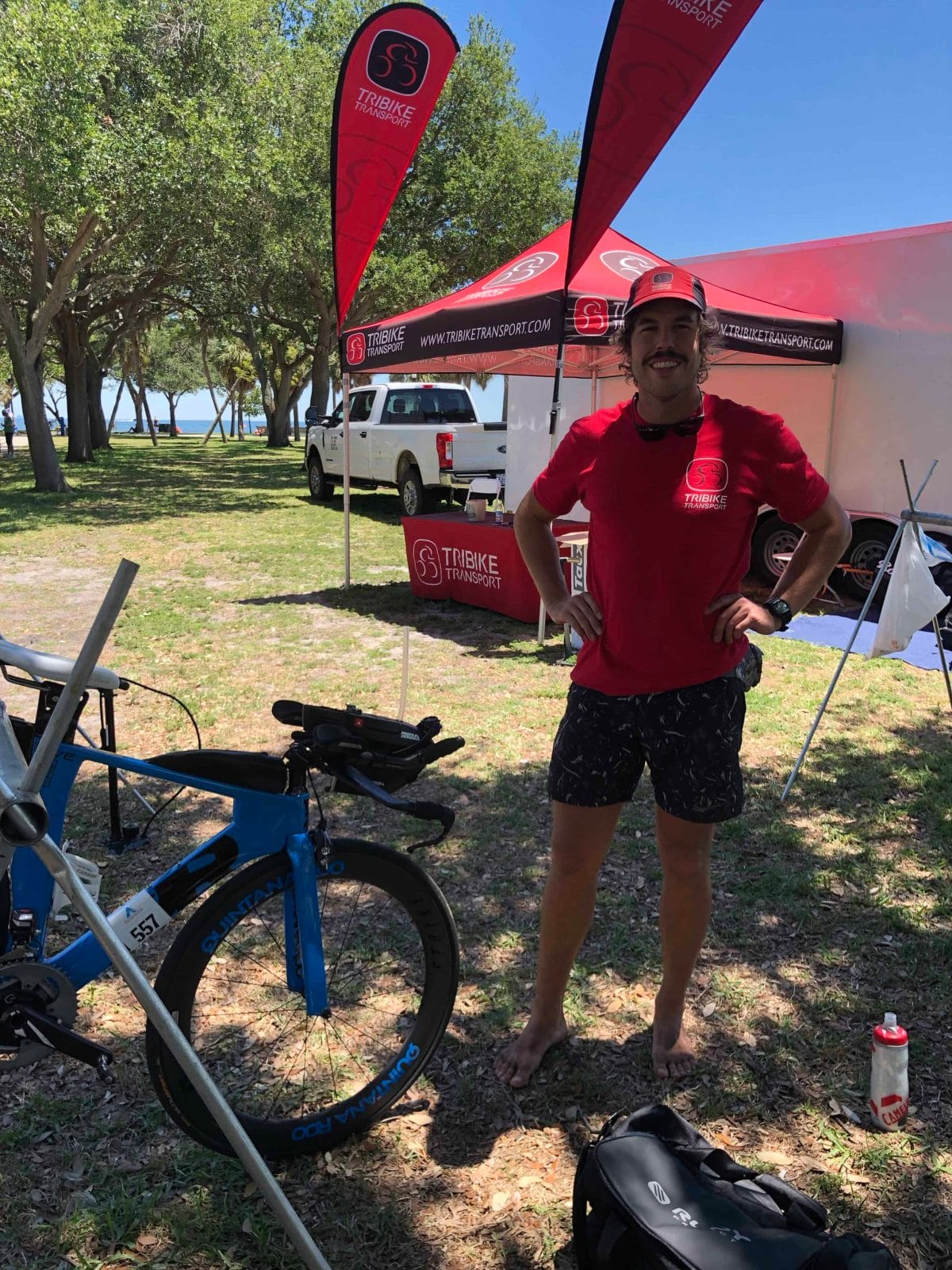 A couple of days later, when I was in Florida, I retrieved my bag first. Matt, the driver, was amazing. He was so helpful. The following day, he pumped up my tires and put on my pedals and I tested out the bike.
I wanted to make sure all the gears were in order. They were all just fine!
"How easy is this," I said to myself. "I just wished they serviced more races, other than Ironman races." I love to travel and renting a bike just isn't the same as using your own bicycle in a race.
After the race
The best part about TriBike Transport is after the race was finished, Matt had a big smile on his face. He gently removed my pedals. He took my gear bag and told me he would be back in New York in 7 to 10 business days!
Now, I had a big smile on my face knowing that my bike would get back to New York safe and sound! Thank you TriBike Transport.
If you are going to an Ironman race — either a full or half, consider using them. They are exceptional and take good care of your bike! (Plus, if you're a member of our free team, WeRTriathletes, you can get a significant discount!)