As runners and triathletes, we all have issues with our feet. If it's not plantar fasciitis, then it's Achilles Tendonitis or another foot ailment.  So, when Strutz reached out to me to see if I would check out their Strutz Pro Cushioned Arch Support, I was more than willing.
I've been having issues with my toes. For some reason, there are two toes on my right foot that are numb and painful. When I went to the foot specialist, he told me to put a cushion under my arch. This is exactly what Strutz Pro does. The latex-free compression band hugs the foot for a perfect fit. You slip on and wear it with or without shoes.
How does Strutz work?
You slide Strutz on your food with the pointed end facing the heel. Then position it between the ball of your foot and the heel, and put it where you need it most. The instructions say, to rotate to different areas of the foot until you feel content. Strutz can be used for 2 to 3 months before you need to replace them.
The instructions say that you should only wear them for an hour a day and then increase it every day by an hour or so.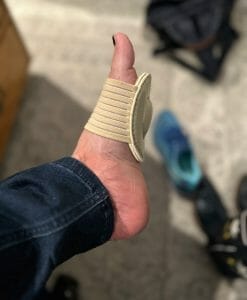 Features of Strutz
Strutz has a foam-contoured arch pad that lifts fallen arches and flat feet to improve balance, control foot motion, and align the body. They can be used during activity and after activity for recovery. Over time, the support molds to your foot for increased comfort.
Strutz can help relieve the pain associated with Achilles tendonitis, plantar fasciitis, and ball-to-foot pain.
What did I think?
I wore them for an hour on the first day. It felt extremely comfortable when I walked around the house barefoot. However, I had issues keeping them in place when I put my shoes on. They kept slipping down, which I found a little annoying. But, other than that, they did help my toe issue and were in the perfect spot just as the doctor ordered. You can pick up a pair on Amazon or on their website here https://www.lovemystrutz.com/.