I have partnered with ROKA many times during my tenure as a triathlete. They were one of our first team sponsors and offered hefty discounts to team members on wetsuits and other apparel. Recently, they've been focusing on eyewear. I had the opportunity to review the process a couple of years back. Those glasses appear on the cover of my new book From Couch Potato to Endurance Athlete.
In addition to that, I toured their facility and wrote this blog piece.
Recently, I approached them to see if they would be interested in sponsoring my Austin, Texas book tour. ROKA is located in Austin and I thought it would be the perfect fit. They agreed and I was thrilled.
About From Couch Potato to Endurance Athlete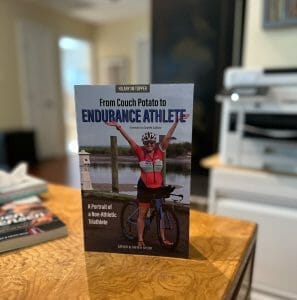 For those who have ever thought they were too old or too unfit to compete in a triathlon, From Couch Potato to Endurance Athlete will prove that it is never too late to compete! This is a story about overcoming life's obstacles-from injury and business trouble to grief and loss and everything in between.
I was a 48-year-old working mother who once upon a time had practically failed high school gym class. I was working 60-plus hours a week, running a small business. My focus was on others-her children, her aging parents, and her staff. In the meantime, her weight kept increasing, and she was unhappy with the way her life was going. She needed a change. To turn things around, she joined a gym for the first time in her life.
This book will take the reader on my decade-long journey as I train for and run my first 5K, swims the aqua-blue waters of the Caribbean, cycle a hilly course in Milwaukee, learn how to run-walk her way through the New York City Marathon, and compete in her first triathlon in Sanibel, Florida.
The reader will be right with me as I narrate each experience-even a 5-mile swim in the murky waters of Long Island. I hope my story will move, motivate, and inspire you.
On the cover of the book, I wear a pair of ROKA sunglasses.
Austin Tour
In Austin, Texas, I will be giving a presentation at BookWoman, 5501 N Lamar Blvd A-105 in Austin. There, I will give a presentation about the book, read a chapter, and will give out giveaways and bookmarks.

About ROKA
For those who aren't aware, ROKA is a performance design company based in Austin, Texas that was founded by two all-American swimmers from Stanford.
Now in their 10th year of operations, ROKA builds extremely well-designed technical apparel and performance eyewear that's been relied on by numerous world champions and Olympic gold medalists across several sports and activities – from triathlon and cycling all the way to the Dakar Off-Road Rally.  If you do triathlons, you will know ROKA, as they got their start there and are a global Ironman partner for both their technical apparel and their eyewear.
However, over the last several years ROKA has expanded well beyond endurance sports, making products for a wide variety of different pursuits, and today most of their customers are active people who are looking for tools that will help them get after it.
If you're not familiar, ROKA is like the Lululemon of eyewear, in the sense that they have created a product line that works extremely well for sport or exercise but also crosses over seamlessly into everyday life.  ROKA's first product was a performance aviator, which was designed to look like a normal aviator but had cutting-edge and patented performance tech under the hood to hang with the classic star trek looking sports shields on the market.  This product didn't actually exist at the time ROKA made it in 2016, and in building it, ROKA started a new category of eyewear that delivers all the performance you need without having to compromise on style.
For those of you with poor vision or aging eyes, ROKA has you covered.  During the pandemic, they set up manufacturing at their HQ in Austin and now operate an in-house optical lab where they cut all lenses and do all the frame assembly to order.  ROKA offers a wide range of prescription options, from readers to regular distance to complex progressives.  All of ROKA's glasses can take a prescription lens and are designed to stay on your face when you're running, cycling, doing yoga, and working out.  So you can ditch the contacts and wear your glasses when you're trying to squeeze in a quick workout.