I have very high arches and I need a neutral shoe that will give me the arch support and have that extra comfort. Here are five shoes for fall/winter running. Some I took a second look at and would remove from my top five list like the Saucony Ride 15s. Others, like Skechers Performance and Run Ride 10s, I would put on my list because I really enjoy wearing them.
My top five fall sneakers:
Brooks Ghost 14
These have already been replaced with the 15s, but for now, these are on my list. I love Brooks running shoes and the Ghosts have been my go-to for a while. They have great cushions and are perfect for any type of run. The shoes are carbon neutral and a large part of the upper is made of recycled materials. It has a 12mm drop and only weighs 9 oz. They retail for $140 but they are currently on sale for just over $100. You can get them here: http://www.Brooksrunning.com.
Second look – You could probably get the 14s on sale even cheaper than what I stated above and they are a great sneaker. My podiatrist highly recommends them.
Skechers Go Run Razor Excess 2(TM)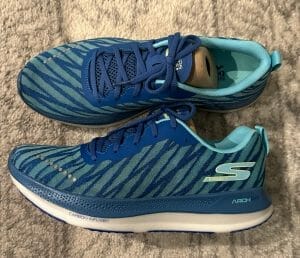 The Skechers Go Run Razor Excess 2 are exceptionally lightweight, strong, breathable, and comfortable. I love the high arch that gives support and that the shoes are neutral and responsive. They have a 4mm drop from heel to toe and the brand continues to use Good Year Performance Outsoles for those slick fall and winter days! These are great road shoes and they even have a rocker when you run. They come in three different colors – Black, Blue, and Green, and are priced at $100. You can get them here: https://www.skechers.com/go-run-razor-excess-2/246035.html
I'm also really enjoying the Performance and the Run Ride 10s. I think they are great sneakers and worth picking up. See my blog post here.
Second look – I am actually loving these sneakers. They are fast and great for racing or track work. I've been wearing the Performance and Go Run Ride 10s and enjoying those as well. The price is great for all three of them. They are inexpensive and work better than some of the more expensive brands.
Saucony Ride 15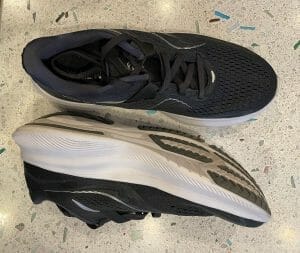 These shoes were originally recommended by Runner's Edge in Huntington. However, the sales team wanted to sell me inserts (which I bought) but they thought I should wear them with these shoes. The shoes were so comfortable without the inserts that I bought them. They have a spongy ride and a nice high arch. The shoe provides comfort all around and I'm happy I picked them up. It really contours your foot which I found very interesting. They are lightweight and breathable, which is important to me. These are neutral shoes and have an offset of 8mm. They weigh 7.8 oz and are priced at $140. You can get them here: https://www.saucony.com/en/home.
Second look: After wearing these sneakers in Spain and Portugal and walking 8 miles a day, I can firmly say that they are not worth the price. They may make sense for short distances. But they certainly didn't work for long walks or runs. I ended up leaving these in Spain.
Nike React Infinity Flynit
I tried these on in a Nike store in Nashville and ever since I've been thinking about these sneakers! The Nike React Infinity Flynit is super comfortable and has a nice arch. They have a nice sock-like mesh on the toe area that is breathable. I'm really loving these and can't wait to wear them.
If you buy these, make sure to go up another half size. They are tight. I paid under $130 for them on sale. You can find them here: https://www.nike.com/.
Second Look – I bought a size 8 and whenever I wear them I feel like my toes are too tightly snug. I wish I bought a size 8.5. They are tight and not as comfortable as I tried in Nashville!
Allbirds Tree Dashers
Although these may not be great for running, they are great for recovery and that's why I mention them here. The website claims that they are good for everyday runs, but I haven't found that to be the case. I love them for walking and light workouts.  They have a 7 mm heel drop which is good for people with Achilles problems. They are also lightweight at 8.6 oz. The best part about these sneakers, they are sustainable and made from recyclable materials.
You can pick them up for as little as $100 to $135. You can get them here: https://www.allbirds.com/.
Let me know what your favorite sneakers are in the comments below.