There's something special about running a race through neighborhoods. I've done it a few times and each time was more special than the next. The 13th Annual Donna Half Marathon, in Jacksonville, Florida, was no different. It was a racer/spectator experience.
The race weekend always starts with an expo. Dawn, one of my running buddies and teammates from Team Galloway Long Island, and I got into Jacksonville at 10 am from JFK. We were surprised when we noticed how chilly it was. It wasn't that much warmer than New York. The weather stayed in the 40s and 50s all weekend.
The race expo:
I've been to a lot of race expos and this was one of the nicer expos I have seen in a long time, especially considering that it was a local Jacksonville run.
They had lots of clothing vendors. I ended up buying a great pair of compression pants from Jolyn Clothing and wore them for the race. They also had some unique and interesting vendors. For example, there was one vendor selling Python and Kangaroo Jerkey. (No, I did not try it!)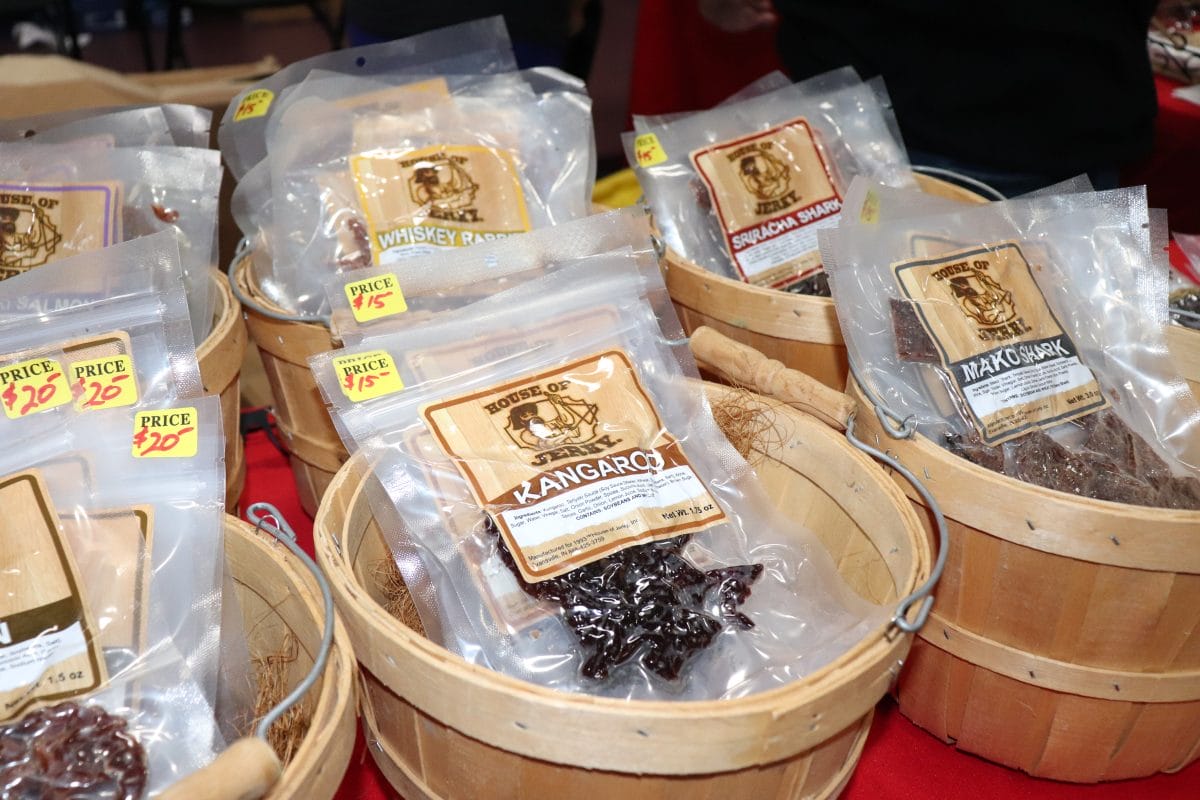 This year's theme was Together We Will. A local Jacksonville artist, Kurtis Loften, painted a wonderful race picture and Donna Degan, the founder of the Donna race, and the artist signed their names.
I even met a couple who designed some awesome skorts from a company called Bolder Athletic Wear. The skorts were so much fun, I debated on getting one.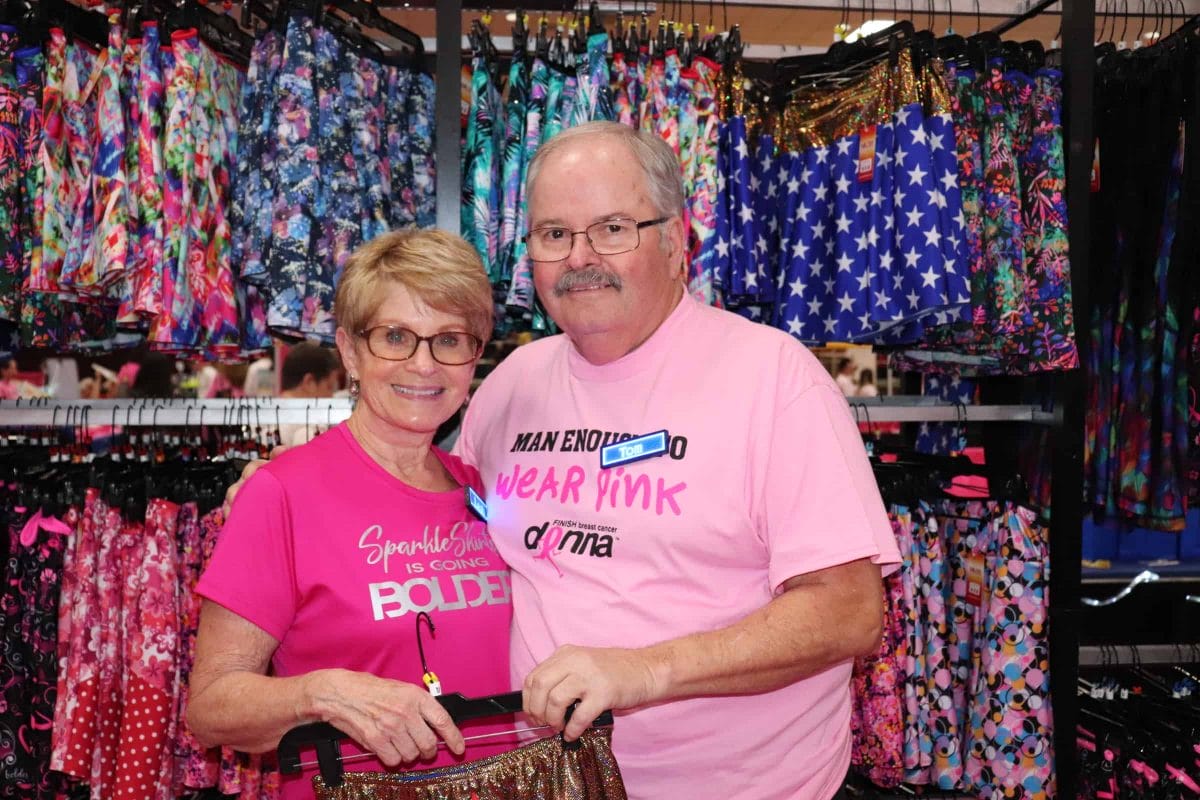 Dawn was interviewed by the Donna Foundation because Dawn is a cancer survivor. She had the opportunity to share her story and inspire others. (They even followed her on the racecourse.)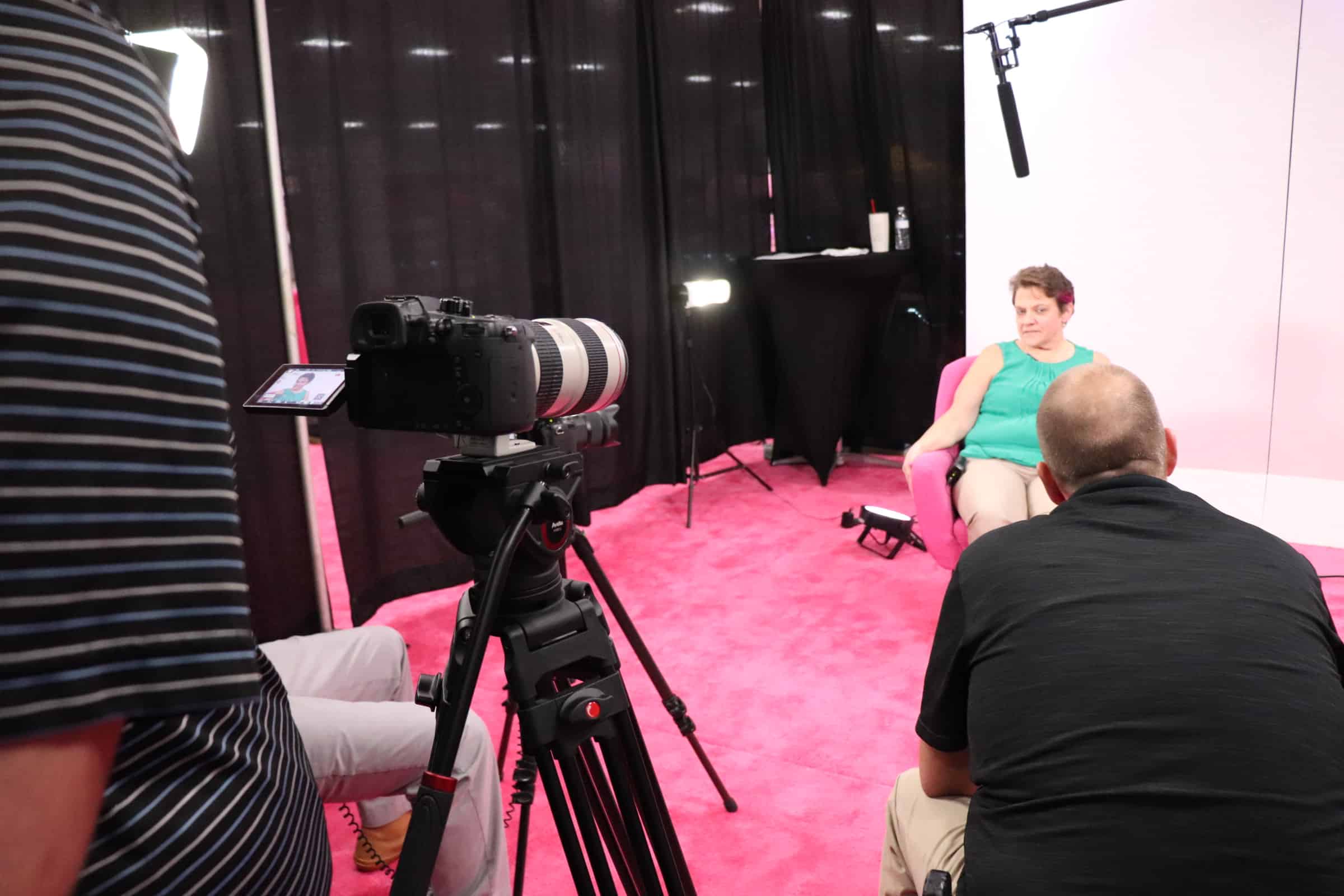 5K Race
We didn't run the 5K race, but we had mutual friends, Lisa and Tom, who did. They said it was a great race. If we ran it and we ran the half marathon, we would have gotten a special "booby trap" medal.
The Donna Half Marathon/Marathon
I loved that we rolled out of bed and strolled to the start line for the Donna Half Marathon. The Marathoners started with us and the Galloway Pacers were there, all lined up in place ready to go. I had my Balega socks (I actually left them home so I had to go to a local running store to buy them.). I also had my MoxiLife ready in my water bottles, using a mixture of HydraMag and PhytoLite. Before the race, I used my Myostorm to loosen up. (I also used it after the race for recovery!) In addition, I used MedZone's Muscle Rub and ChafeZone to protect my skin from chafing. I was ready to do this race.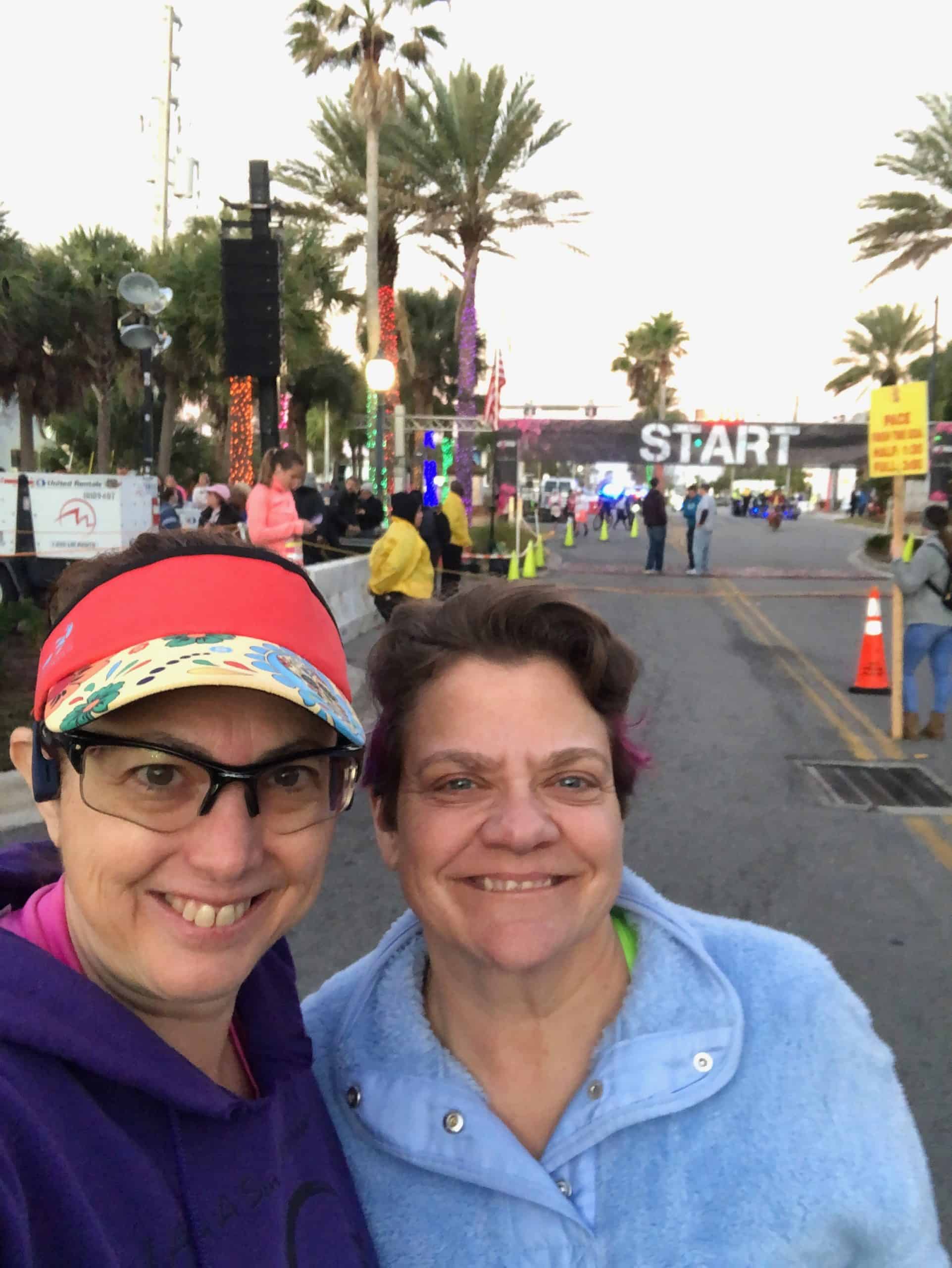 The start was at the Beaches Town Centre by AIA and 3rd Street. Dawn and I started together but within five minutes or so, we lost each other. I wasn't sure if she was ahead or behind me. I looked around and couldn't find her, so I plugged in my headphones and followed the crowd for 13.1 miles.
The race started at Neptune Beach. It went through various neighborhoods by the beach. Each neighborhood was so incredibly welcoming.
Block Party
Talk about a block party! Atlantic Beach had chalk drawers that were motivational and uplifting. While Ocean Blvd had palm trees made out of green and pink balloons. It looked incredible. As I was going through the neighborhoods, a little girl with a "pussy" hat gave me a high five.
The neighbors were so warm and friendly. Many of them were giving out water, oranges, ice pops and more. You could feel the love.
As I ran, I saw peaks of the Ocean. It felt like a beach community, except many of the houses were large and gorgeous.
My time and thoughts
I kept noticing my time. My focus was on staying in the 12s the entire way and for most of it, I did. I kept thinking that I would see Dawn but I never did.
As I ran, I started to think not only of Dawn but of Laura and Kathleen, also breast cancer survivors. I saw a woman with Stage 4 breast cancer running. She was incredibly fast.
In addition to these three incredible women who are in my running group, I started to think about my mother, who could never run because of her polio. I started to think of my sister, lying in her hospital bed before she passed and I said, "I'm also doing this for you."
Two miles to go
The last three miles were a little rough. They always are. I started to slip a little while trying to stick with the 2:40 group. My 30/15 pace was held throughout. I felt good but started to cramp up a little.
My son will be at the finish line, I kept thinking to myself. That motivated me to keep going. I looked for him but didn't see him.
The Finish Line
I turned the corner and saw the finish line. As I ran, I could feel it getting further and further away. "I got this," I said to myself. "I'm doing this for Dawn and the other survivors, if they could do this, I can do it too…"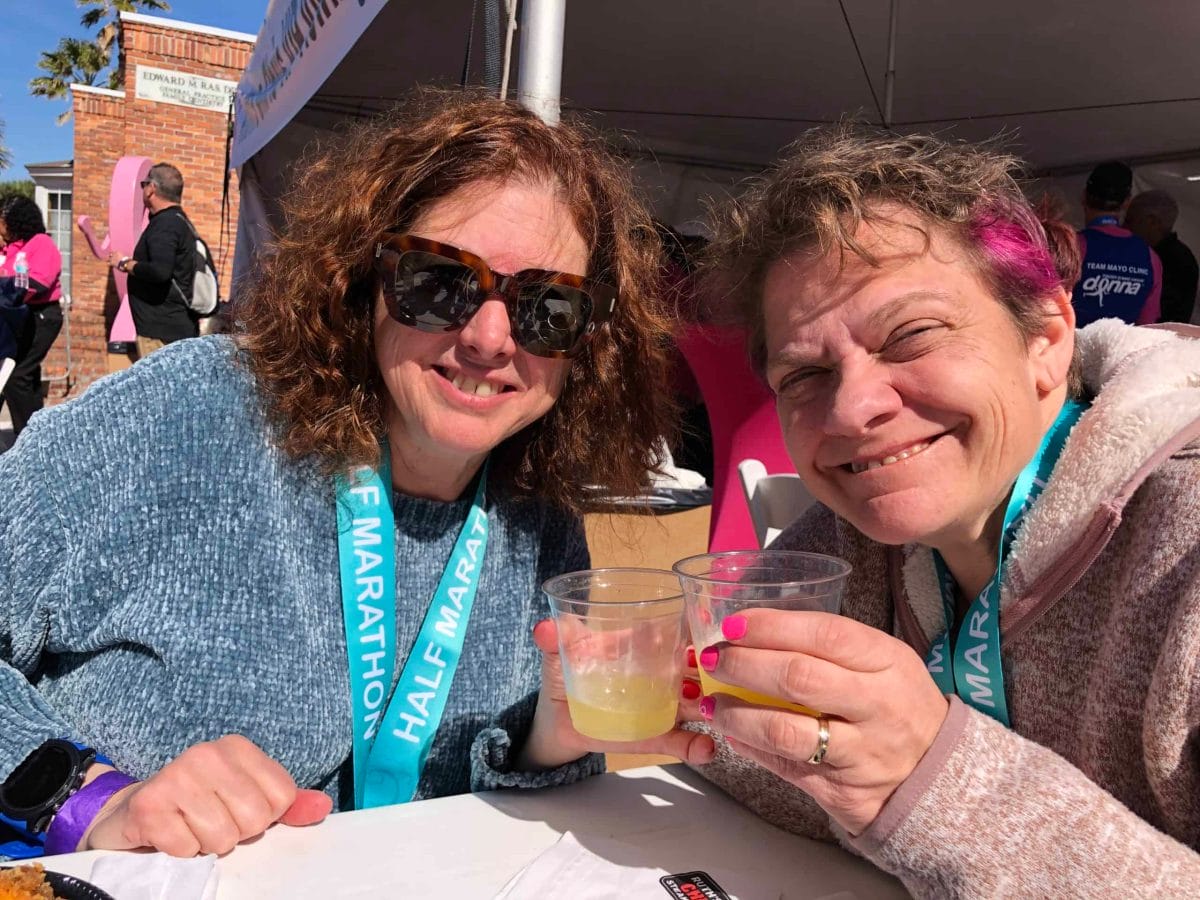 After I crossed the finish line, I realized that I PR'd this half by four minutes. That was exciting. It was exciting to hear that Dawn also PR'd the race. I got in touch with my son soon after and it was amazing to see him. A perfect end to a great race.
For more information on how the Donna Marathon Weekend went and where we ate in Neptune Beach, look at my NYLifestyleBlog.com. Also, watch for 48 hours in Jacksonville!