One of the questions I'm asked often is what is a good electrolyte drink for running or triathlon training and racing?
If you only use water or just water with electrolytes, you may be missing out. PhytoLyte, a product made by MoxiLife, has electrolytes, rich vitamins, and minerals.
It's a fact that training, racing and daily stress deplete our system of vital nutrients. How many of us find that we are running from training to meetings, through airports, & picking up kids without time to sufficiently sit down for a solid meal?
That's where PhytoLyte comes in.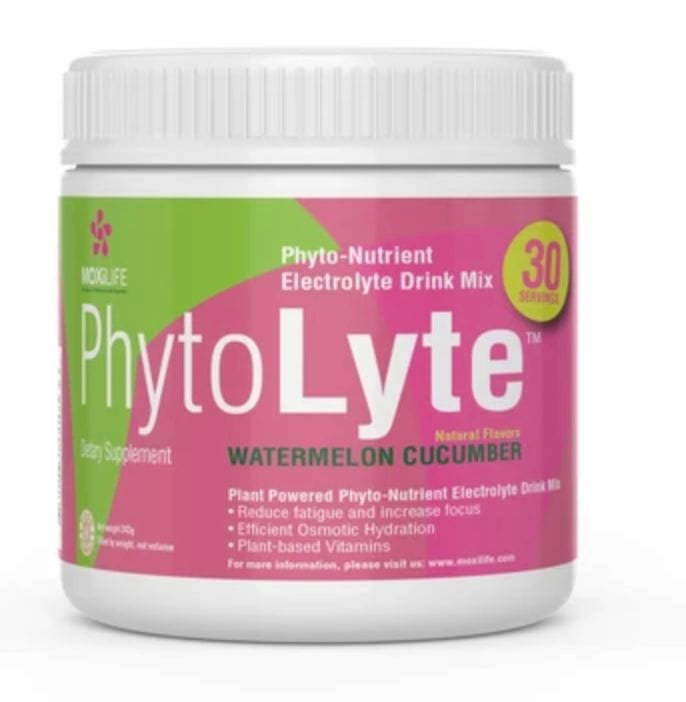 What's in PhytoLyte
PhytoLyte combines whole food vitamins (from fruits and vegetables ) and electrolytes are essential nutrients to support your metabolic functions. VitaCholine is also included in PhytoLyte to increase neuromuscular communication while sustaining energy for the duration of daily activities, training and racing.
Each PhytoLyte™ serving provides one daily serving of fruit and vegetables.
Plant-Based Vitamin blend sourced from NON-GMO Fruit and Vegetables, Garden Fresh and made to order maximizing the complete absorption of nutrients
Electrolyte ratio is formulated to replenish average hourly sweat lost, based on clinical studies of extreme athletes
All ingredients are selected for the efficacious clinical research, freshness, verified quality, and known location of origin.
VitaCholine™ Enhances cellular osmosis, increases focus and cognitive function, reduces fatigue and helps liver functionality
Hawaiian Spirulina: The Oceans Superfood! An easily digestible nutrient-dense protein profile, supporting muscles and electrolyte absorption.
How to Use PhytoLyte
Here's what the MoxiLife experts say:
"Use PhytoLyte during intense training blocks and or the week leading up to race day. Up to 5 servings daily. Add to 16 fluid ozs of room temperature water. Shake vigorously and drink."
There is even science to back this up! Check this out:
https://content.sciendo.com/view/journals/hukin/40/1/article-p77.xml
https://www.ncbi.nlm.nih.gov/pmc/articles/PMC1997116/
https://www.sciencedirect.com/science/article/pii/S0955286300001194
https://link.springer.com/article/10.1007/BF00377711
For more information or to order PhytoLyte, go here: http://bit.ly/37rjKnz.