When I started out last July, I didn't know a transition bag or a triathlon backpack existed. I had a few Vera Bradley bags and I filled them up with gear. At a transition workshop, the coach laughed at me carrying four different bags, my bike and towel.
That's when I realized I needed a transition bag. I went to my local bike shop and picked up a TYR transition bag in black and white. (There weren't any other choices at that store and I knew I needed one immediately!)
I used the transition bag for several months and enjoyed it. It was large enough to fit everything in and yet it was comfortable to use as a back pack.
My birthday was last month and one of my employees bought me a TYR transition bag in blue and green. I saw this bag at the TYR spring event in Manhattan and fell in love. The teal blue and green just make me feel good!
The bag I'm talking about is also called the Alliance Mini Backpack showcases a condensed 16.5″ x 11.25″ x 8.75″ design for easy transport and reduced bulk. It's extremely durable too. It comes in a ton of different color combinations. I have the black and white one and the Teal and green one. It is priced at $49.99.
But the bag I want to review here is the TYR Triathlon Backpack. Now this is an amazing transition bag!  Why?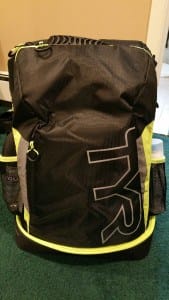 1. It has a separate compartment on the bottom specifically for the wetsuit.  I love this feature! Now, I don't have to co-mingle my wetsuit with the rest of my gear!
2. There are so many pockets and areas to organize your gear.  If you put everything in where it belongs, you will never lose anything!  (With the other bags, I threw everything in together and could never find anything without taking everything out of the bag!)
3. The bag has reflective material so if you're riding your bike to get to the transition area (as my friend Marti and I did when we did our first triathlon) there are reflectors so people can see you!
4. There are little round ties that are conveniently located on each zipper, making it easy to open and close the bag quickly and efficiently.  When time is of the essence, this is an incredible feature.
4. I love the material. It's soft, clean looking and fits snuggly on your body.
5. Although the bag is large, it is very portable. It features a drawbridge-style main compartment that opens to conveniently display all of my equipment and has a waist belt, top handle and comfortable padding. Dimensions: 20"H x 13.5″W x 12″D.
The retail price of the Triathlon backpack is $99.99 and can be purchased on the TYR.com website or at most retail stores.