Most flip-flops are completely flat, have a little cushion, and are good for walking around the beach or the pool. Then, there are some products that are particularly cushioned and have a bounce to them. Unfortunately, neither extreme works for me especially when I need something at the pool.
Recently, when I was at The Running Event (TRE) in Austin, Texas, I met with two different companies producing similar items.
Lightfeet
Lightfeet Arch Support Flip Flops are designed by an Australian Sports Podiatrist to provide support for everyday use. The flip-flop offers stability and comfort. It has a relatively deep heel cup and high arch to provide longitudinal and transverse arch support for your feet.
Lightfeet is made from ReVive Foam® to offer shock absorption and provide you with recovery from a tough workout, walk, or long run.
Each pair is designed to include podiatry contours that offer relief from heel pain and even plantar fasciitis.
The price is $34.99 and they come in several different colors. They run true to size.
Archies
Archies offer up to 2.2cm of orthotic support and encourage optimal foot posture aiding whole-body alignment. After several uses, Archies will mold to your foot. In addition, you don't need to grip the flip-flops to walk, you can use them all day without overusing muscles and tendons in the feet. The best part, they are extremely lightweight.
Interestingly, the company is also made in Australia and has been around since 2011. Dan Jones is the founder and also a physical therapist.
The price is $35 and they also come in a variety of colors.
Comparing the two
From the naked eye, the flip-flops look almost identical. They both make a heel cup. Lightfeet may have a larger one than Archies. The Lightfeet also has a bit of a lip around the toe. Further, there is more of an arch support in the Lightfeet brand. So if you have high arches, you may prefer this product over the other.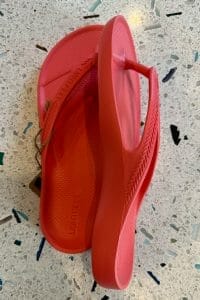 They are both extremely comfortable and look like they mold to your feet.
When I spoke with the people at the Lightfeet booth, they were all wearing flip-flops all day. That's a lot of standing around! Yet, they said they felt good.
The price is the same, they have a similar look and feel, and they are well-made.
My thoughts
You can't go wrong buying either of these products. I really liked both of them. They are a perfect addition to a pool bag!