VViI met the owner of Vimazi at The Running Event in Austin, Texas in December. He explained that he did significant research on sneakers in all different paces sizes. TRE was the event where he launched his new line of sneakers.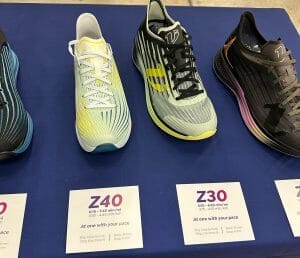 He had sneakers for those of us who run a 4 min/mile to those of us who run a 17 min/mile. I thought that was a true game-changer in the sneaker industry and was intrigued with the company.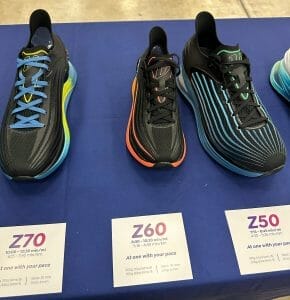 Interestingly, the sneakers are delivered in a box that can be shipped via FedEx or UPS. No additional package is needed for shipping.

Vamazi Sneakers
I was given a pair of Z50 sneakers. These have been precisely tuned to optimize cushioning and maximize energy efficiency at the pace you run. Although I'm not a 7:15 – 8:45 per mile runner, I was given the pair to test out.
These shoes are optimized for quickness and max energy efficiency at pace.
They have a wide toe box, and contoured heel pocket and are extremely light. Engineered for the slender to the average-weight runner,  Vimazi has a 5mm drop from heel to toe.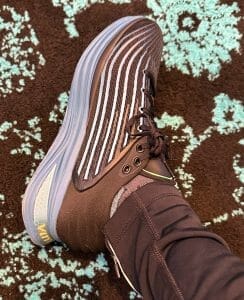 What did I think?
I wore the Vimazi sneakers a few times on training runs and loved the springing feel and the lightweight push-off from the toe. They are extremely breathable and fast!
The retail price is $175. You can get them here: https://vimazi.com/