I'm always game to try new protein bars, especially ones that are healthy for you. So, when Balanced Tiger reached out and asked me to try a sample pack, I was interested.
The bars come in four different flavors and are supposed to be for specific things.
For example:
Energy is made of cordyceps mushrooms and has the flavor of chocolate chip cookie dough.
Immunity is made with Chaga mushrooms and has the flavor of a chocolate brownie.
Balance is made from reishi mushroom and has the flavor of vanilla chai.
Focus is made of lion's mane mushrooms and has the flavor of peanut butter.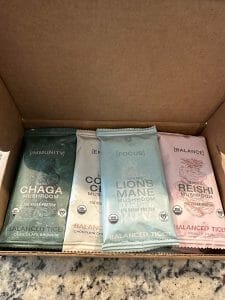 All of the bars have similar ingredients like tapioca syrup, brown rice protein, almonds, cane sugar, sea salt, etc. They are all 190 calories, except the Immunity one, which is 170 calories.
They all have 10 – 11 grams of protein in each bar.
What did I think?
I liked the idea behind the bars and I like that a new company is trying to enter the marketplace. However, I didn't love the flavor of any of the bars, except for Focus, which was the peanut butter bar. (It's funny, I would have thought I would have liked all the others but there was an aftertaste that I didn't love.) I found the Focus bar had a little more flavor and taste than the others, but that's me.
However, everyone has different taste buds. So, I at my last run/walk group, I gave them out to the runners. Let's see what they thought…