I've been training for the Captiva Triathlon for nearly three months. Marti DiPaola and I signed up for the race right after we completed the Brooklyn Half Marathon in May. We did it on a whim. After that, we both hired coaches — different coaches.
Training was rough
For me, the triathlon training was rough. Five days a week, I swam, biked, ran or did a brick workout (which consisted of either two or three of these disciplines). It was especially tough since swimming and cycling were new to me. Although it was rough, it really prepared me for the race and I don't think I would have been able to do the Captiva Tri without the coaching.
Flying to Ft Myers
Marti and I flew down to Fort Myers on the Friday evening before the Sunday race. From the time we got on the plane until the day of the race, things got a little crazy.
For starters, Marti booked us a car at Foxes, which was outside the airport. By the time we got into Ft. Myers, it was late. We were both tired. So we decided to switch and go with Thrifty. We rented a compact car and went into the garage to pick it out. When we got there, there were no compact cars left in the lot, so we were told to pick out a SUV. After picking three different vehicles and driving around the lot to find that there were problems with all of them, we landed a Volkswagen SUV and luckily it had a GPS. We put in the address to what we thought was South Seas Island Resort and we were off. However, the address was wrong and we got a bit lost so by the time we got to the hotel it was really late.
The next day, we had a ton of things to do to prepare for the race. We both got up at 6:30 am and planned a schedule for the day: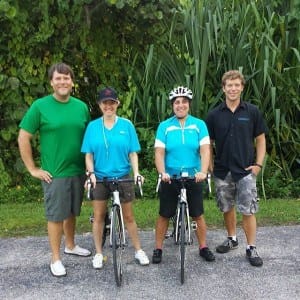 8:30 am – Pick up the Bikes at Billy's Bike Rental Shop in Sanibel (45 minutes away from where we stayed in Captiva)
10:30 am – Swim Clinic in the Gulf
12 pm – Transition Workshop
1 pm – Lunch
2 pm – 20 minute bike ride and 10 minute run (like my coach wanted)
3:30 pm – Pick up race numbers and tattoos
5 pm – Meet up with Marti's cousin who owns a bike shop on the West Coast and was also racing.
Tight Schedule
The schedule was tight so we were off. Billy's Bike Shop was a pleasure to work with. When we first started this journey, I thought I would have to ship the bikes and realized it was very expensive. The store manager helped us get two carbon fiber bikes to rent and Preston and Ryan helped fit the bikes. They cost us $75 for the bikes and then an additional $15 for the pedals. The guys put the bikes in the back of the SUV and we drove 45 minutes back to the hotel just in time for the swim clinic.
Swim Clinic
The Swim clinic was a disaster. The waves were rough the water was choppy and people were crazily going into the water. I was having issues, as usual with my nose plugs. They kept falling off and when I tried to breath out without them in the water, I had a hard time, so I stopped and put them on. I felt totally defeated after the clinic and didn't think I would be able to complete the race.
Since the Transition Clinic was an hour after the end of the swim clinic, Marti and I decided to skip it. My coach had given my team a clinic already so I didn't really feel I needed it. After that, Marti and I went on a bike ride and I found that my bike was squeaking terribly so we had to put it back in the car and go back to the shop. That took another 45 minutes each way….
Back at the hotel
It was 2:30 pm by the time we got back to the South Seas Island Resort, which by the way was gorgeous. We rented a huge two-bedroom apartment. My only complaint they charged us a $17 a day per person resort fee for the facility, which we ended up not using.
When we came back we headed over to pick up our numbers. We were exhausted and I was in total panic mode. Marti stayed calm throughout the day until she got the number 666. Then she lost it. She refused to put it on. The race director told her that if she didn't want to wear it, she couldn't race. This went on for nearly an hour in the hot sun, until Marti said, "Why don't you wear the number 666 on your body." That's when the race director got up and gave her a new number.
We got back to the hotel and decided to buy pasta and sauce from the company store. I texted my Tri-Global coach, Richie Caiazza, and he wrote me back, "don't sweat the small stuff, it will be okay." We cooked up the pasta and then I crashed from being on high anxiety all day.