Move over Coeur and Betty Design, there's a new kid in town and I think you will love them as much as I do! They are called Venganza, Borah Teamwear's collection of women's triathlon apparel, located in Wisconsin.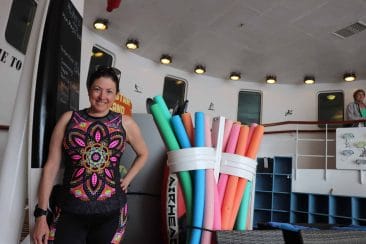 I recently had the opportunity to sample the Venganza tri kit and wow, I am so totally impressed!
First, Borah has beautiful designs. If you check out the website, you will fall in love with so many of their styles. And, the best part is, they make you look good!
Tri kits are generally so tight that everyone sees every roll you have. If you are self-conscience, this sport is not for you. But, the Borah suits, especially the Venganza tri kit, are quiet slimming and they make them up to 4XL!
Made out of Italian fabric, I thought it fitting to take the tri kit with me to Southern Italy.
I particularly like the fabric and the way it stays put and doesn't ride up like so many of their competitors. I also love the bottom of the shorts. They are so comfortable and snug my legs gently, not tightly!
The other great detail about the kits is that they have a button that keeps the tri top from riding up. How clever is that?
Another interesting thing about the kits is that the chamois is oversized, which is good for a long ride and you won't even feel it on the run.
The designs are extraordinary. I sampled the Mandala design but there are at least six gorgeous designs in this line. To be honest, I would love all of them, they are that cute!
The tops retail for $100 and the shorts retail for $110. The quality and the style make the price, well worth it (especially since you will look great!).