Can't figure out what to do about your hair?
Guys, this one isn't for you… it's for us women who have long hair and aren't sure how to deal with it during a triathlon. This post crossed my desk and I thought it was worthy to share. Reebok worked with Boston-based hairstylist Diana Quagenti to put together hairstyles specifically designed and tested to hold up against the toughest workouts.
Here's how: Start with a small section at the front center of the head and secure into a pony with an elastic. Tug forward on the hair a bit to loosen it and create the first "bubble." Repeat this going down the head, tying each previous pony tail into the next. Focus the tugging on the outer edges to create the bubble while keeping the ponies intact. Continue this process until you reach the end of the hair.
Here's how: Start a French braid in the center of the head, close to the forehead.  When braiding, keep your hands elevated a bit from the head to create height in the braid.  Stop the braid at the crown of the head and secure with an elastic.  Expand the braid by pulling it apart.  Pull the rest of the hair up into a high pony, joined with the braid.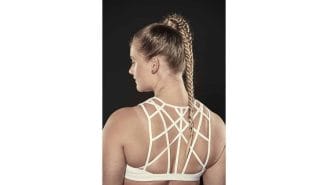 Here's how: Smooth and gather all the hair into a high pony and secure with a non-slip hair tie.  Take a piece of hair from the underside of the pony, wrap it tightly around the hair tie and secure with a bobby pin.  Fishtail braid the pony and secure with an elastic.