When Naked reached out to me to see if I would be interested in reviewing their new Clear Naked Whey Fruit Punch Flavor, I was a little hesitant. Could it possibly be good?
The protein powder was delivered immediately with a limited edition shaker bottle and I started to read the ingredients. It has very few ingredients including whey protein isolate, natural flavors, citric acid, sea salt, fermented cane sugar, and vegetable juice for coloring.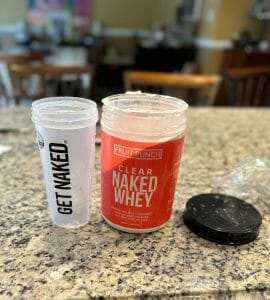 I immediately put it into my Weight Watchers app and found that it was only 1 point per serving. That's insane!
Clear Naked Whey Fruit Punch
I also noticed that it only is 70 calories per serving and has lots of amino acids and BCCA to keep you going through a workout, especially with 15 grams of protein!
After following the directions, I opened the jar and the smell of fruit punch reminded me of my childhood. I put two scoops into the shaker and added 16 oz of water. I could have used only 10 but thought a more diluted flavor might taste better. I shook it hard so that the powder would dissolve in the water. Within seconds it was dissolved and I poured it into a glass without ice.
The Taste
I was so surprised at how good it tasted! It brought me back to the days of my youth when I loved drinking fruit punch. I haven't tasted the flavor of fruit punch in years. Clear Naked Whey Fruit Punch tasted clean, sweet, and just like the fruit punch, I remembered as a child. It was absolutely delicious!
Thinking that it would have a fake taste, I was pleasantly surprised at how much I enjoyed it and how this could be a great go-to in the morning instead of having a 5-point protein shake. (I like to have protein before I work out.)
The Clear Naked Whey would also make a great recovery drink after a hard workout!
The directions say to pour it into a cup and wait for the fizz to dissolve. I think next time, I would prefer to pour this over ice. I know it would taste even better over ice!
About the Shake
Clear Naked Whey includes 100% whey isolate powder and is then lightly flavored to create a refreshing, high-protein beverage that is perfect for any time of day. What I love is that it doesn't use artificial sweeteners and its a refreshing and light fruity taste.  It's a true farm-to-family product.
The shake has 15 grams of protein and 3.8 grams of BCAAs per serving. It is lactose-free, GMO-free, and Soy free. It's also certified Gluten free. There are no growth hormones, rBGH or rBST. It only has the six ingredients mentioned and has no added sugar.
The price of the can is $44.99 or less if you order the subscription.
What did I think?
I actually loved it. I thought it tasted clean and refreshing and brought me back to a time of simplicity. I would highly recommend this and any of the Naked products.