Skechers graciously gave me three pairs of sample sneakers to review on this blog. As you know, I've always been a big fan of Skechers. They make excellent running sneakers, are sturdy, and last!
For a few years now, they have been using Good Year Performance Outsoles for enhanced traction, stability, and durability.
Skechers Go Run Razor Excess 2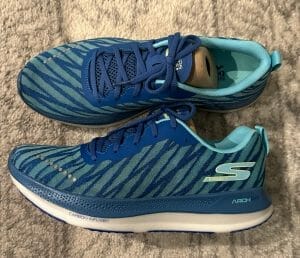 These are interesting sneakers. They have a rocker on the sole of the shoe to help propel you forward as you run. They are neutral, responsive, and have high arch support. They are extremely comfortable with lots of cushion for those tough roads and are extremely lightweight. They weigh between 5.7 oz for a lady's shoe and 7.2 oz for a men's shoe. They have a 4mm offset.
Interestingly the shoe has a patent pending carbon-infused forefoot plate to offer an extremely high stiffness-to-weight ratio which promotes stability and next-level energy return.
The men's shoe comes only in black. The women's shoe comes in black or blue. The shoe is currently on sale for $102. You can get it here: https://www.skechers.com/go-run-razor-excess-2/246035.html
First Impressions
They are very comfortable and I love the rocker effect. These went significantly faster than the other two pairs. I think the rocker made a huge difference but I would mostly wear these for races. I found that I went 30 seconds faster in these sneakers. These sneakers would be great for racing and speed training.
Skechers Go Run Persistence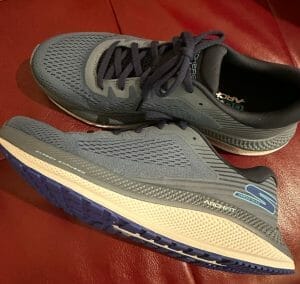 The Go Run Persistence is an everyday training shoe. It has a molded heel which provides a secure fit. It's a little more weight than the Go Run Razor Excess with 9.2 oz on the men's shoe and 7.2 oz on the women's shoe. It has a 6mm drop from heel to toe. This training shoe comes in seven different colors.
The Go Run Persistence also has high arch support. It has a breathable mesh to move with your foot.
First Impression:
The shoe has a large toe box and fits snugly against your back heel. I really love the comfort of these sneakers and can't wait to take the on the road.
When I took them on the road, I loved them. These are great everyday sneakers for training and for racing! I went around 15 seconds faster in these sneakers. I really loved these shoes, which only come in two colors – Blue or Black, and they are currently on sale for under $100!  You can get them here: https://www.skechers.com/skechers-go-run-persistence/172053.html
Skechers Go Run Ride 10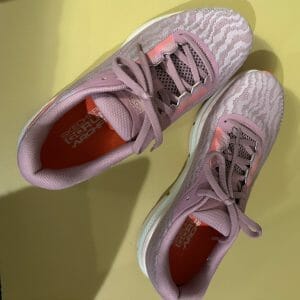 The men's styles come in two colors whereas the women's version comes in three different colors. This is the official training shoe of Edward Cheserek, a long-distance runner. It is lightweight, neutral, and responsive.
Interestingly, this shoe has a mid-foot strike technology which promotes efficient stride. Like the other sneakers, these have high arch support with a breathable toe box to keep you comfortable during the long run.
The Go Run Ride 10 has a 6mm heel-to-toe drop.
First Impressions:
I always loved the Go Run Ride. I find them awesome shoes and so incredibly comfortable. I've had several different versions through the years. I really loved the way they felt when I ran. Great training shoes! I went at approximately the same speed as normal in these sneakers. The sneakers come in several different colors and they are currently on sale on the website for $109! Here's the link: https://www.skechers.com/skechers-go-run-ride-10/246045.html
What did I think?
I really enjoyed running in all three pairs. Personally, I think it's important to have a couple of pairs of sneakers to switch off with, so I could definitely see myself switching off with all three. You can get them at https://www.skechers.com/.