My son and I went Orienteering at Muttontown Preserve. It was organized by the Long Island Orienteering Club.
What Is Orienteering?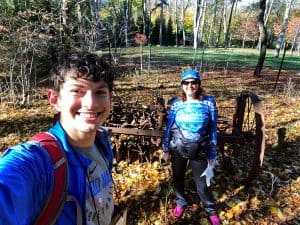 I never heard the term orienteering, but when my son did an adventure race down in Virginia a few months ago, he told me about it. "It's like a scavenger hunt," he explained. "You go from flag to flag writing down numbers and the one who gets the most in the least amount of time wins."
"Is it like geocaching?" I knew about geocaching because my brother and sister-in-law are into it.
"Well, sort of, except this is a race," my son explained.
With the threat of lockdown yet again, my son, Derek, and I ventured out to do this Orienteering race in Muttontown.
Doing Something Different: Orienteering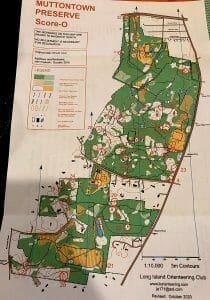 "Hey mah, you want to do this?" he asked me after we ran in the trails with the WeRWalkRunLI running group. I decided to open it up and see if anyone else wanted to do it. So, I sent out an email to the group.
Since no one seemed to be interested, Derek (my son) and I ventured out to do an Orienteering race in Muttontown Preserve.
We parked the car and got out. Glen, the organizer was there. We had already gotten out maps and mapped out what we thought was an appropriate path. Glen greeted us by name, which was so nice. He gave us some pointers about how to figure out the direction. "When you hear the cars," he said, "you are going north or south. Also, look at the sun to figure out where it is so that you can get a sense of north and south as well."
We were off. We found the first couple of flags right away.
Directionally Challenged
I am directionally challenged. I lose my way just driving around my neighborhood. And, reading a map has always been a challenge for me. But, my son has good map skills.  We got lost a few times but for the most part, we were able to find our way.
Beautiful and Interesting
The Muttontown Preserve is really gorgeous. There's a lot of interesting terrain there and unique items situated within the park. The other interesting thing is that there are horses there. As we were collecting numbers off of flags on trees, we saw many people out riding. As a matter of fact, I almost slid into a pile of horse manure!
Since there was a lot of rain, the trail was muddy in spots. The mud was deep and thick, easy to fall into. There were also so many leaves that you couldn't see what was underneath. You could be stepping on a branch or a tree limb and you wouldn't know it with all the leaves.
The colors were magnificent.
During the race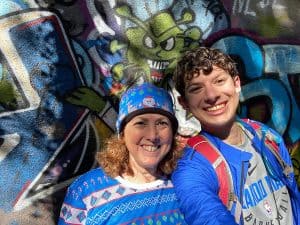 At first, we started to run but as the terrain changed, through the woods, we walked more than we ran. At one point, my son was yelling at me to step it up. (Haha… now I know how frustrating that can be. For those of you who I said, come on step it up, I take it back!)
We ended up collecting 28 flags out of the 35 flags. "We missed the harder ones," my son said. Let me tell you, some of them were hard to find! This was not an easy race with the uneven terrain, the elevation, and the sometimes narrowness of the trail. At times, we found ourselves on the grass and other times in mud patches. It changed throughout the race.
There were times when we got stuck off-trail and got all cut up by bushes with thorns scraping us up. My son even saw a couple of deer and a buck!
As we finished
In just under 3 hours, my son and I decided to stop. We had enough. There were no finish lines, just a text message that we had to send and the event was over.
It was an amazing experience and I'm especially grateful to do it with my son. It was definitely something different to experience when running and triathlon races have been postponed.