Between having bouts of plantar fasciitis to Achilles Tendonitis, I feel like I'm always injuring my feet. So, when DorsiFLEX reached out to inform me about their new product, I was intrigued.
About DorsiFLEX
DorsiFLEX allows you to stretch your foot in effective ways. With its adjustable angles and 20 "fingers" on a twist axis, you simply position your toes and forefoot laterally to achieve a good strong stretch. The indexed design of DorsiFLEX allows for accurate measurement and tracking of progressive improvement in your foot and ankle range of motion.
DorsiFLEX is made of FDA-Grade material, designed to withstand more than 350 pounds of weight but is light enough to carry anywhere. The fingers have smooth-top, rounded surfaces for comfort and won't bend under heavy loads. It includes a sturdy base that's padded and two incline legs that can slant DorsiFLEX an additional 10°. Finally, there is a non-slip ring on the bottom that grips almost any floor surface.
What did I think?
I had previously purchased the Tek Slant Board that is used at physical therapy offices. But, it's heavy and once it's set somewhere, it's set. It's also rather big and could utilize both feet on it at a time.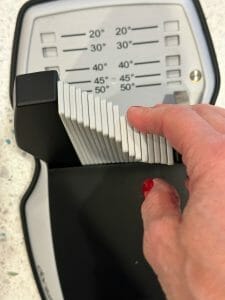 The DorsiFLEX is different. It is only for one foot at a time and it's very portable. You could even bring it with you when you go on vacation. It's that light and portable. The other thing that is different, is that you can angle it at any degree level and then increase it as you get stronger.
Basically, both of these boards work the same way and really are great for either Plantar Fasciitis or Achilles Tendonitis. It's good to have one of these in your home and if I were to pick one, I would pick the DorsiFLEX because of its portability and comfort.
You can get one by clicking here https://thedorsiflex.com/products/dorsiflex.  The retail price is $109.00.