When I was training for the Maggie Fischer Memorial Swim, which was a 5.5+ mile swim from Fire Island to Bayshore, I was using supplements from BioTropicLabs. I am so convinced that these supplements helped me to go the distance.
I would use them in training and felt a significant improvement in terms of energy and endurance.
My go-to supplements were AFA and Chlorella about 20-30 minutes before my workout. Both increased my oxygen levels making me feel great during and after the workouts. After the workout, I would use Oxia for recovery. They really worked great!
So when Craig Dinkel approached me a few weeks ago, I was thrilled to partner with him and his company, Biotropiclabs.com.
By the way, Craig was a kick-ass freestyle swimmer and fly swimmer. He qualified twice for the Olympic trials, earned 23 All-Americans, Set 4 NCAA records, Won 3 NCAA Team Titles, Competed in several International competitions, Won 3 gold medals at Jr. Olympics, Was the fastest inductee into his collegiate Hall of Fame, and held a record for 20 years, the same record that qualified him as the 2nd fastest sprint freestyler in the world at one time.
BioTropicLabs and From Couch Potato to Endurance Athlete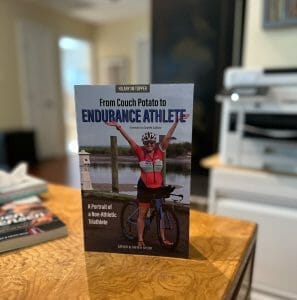 I will be premiering my book, From Couch Potato to Endurance Athlete, in both Sarasota, Florida, and Tampa, Florida.
Sarasota, Florida
On Saturday, January 7 at 2 pm in Sarasota Barnes & Noble at 4010 S. Tamiami Tr in Sarasota, FL. GET DIRECTIONS. 
https://stores.barnesandnoble.com/event/9780062154109-0
You can sign up here for the Sarasota tour – https://www.eventbrite.com/e/copy-of-from-couch-potato-to-endurance-athlete-book-tour-sarasota-fl-bn-tickets-393572254207
Tampa, Florida
On Monday, January 9 at 5 pm at the Barnes & Noble in Tampa, located at 11802 North Dale Mabry Hwy in Tampa, Florida, I will hold my second northern Florida book tour.
You can sign up here for the Tampa tour – https://www.eventbrite.com/e/from-couch-potato-to-endurance-athlete-book-tour-tampa-fl-bn-tickets-501236811797?utm_source=eventbrite&utm_medium=email&utm_campaign=post_publish&utm_content=shortLinkNewEmail
I'll be signing books at each tour date!
Both tours are sponsored by BioTropicLabs and there will be lots of giveaways! 
About From Couch Potato to Endurance Athlete
The book is a 10 year memoir about a middle-aged woman who decided she needed to change her life. She was working 60- 80 hours a week, raising a family, and focusing on everyone except herself.
Find out how she went from 0 to 100. And, most importantly, find out how you can do it too. No matter how old, how overweight, or how anything you, you got this and you can do it too.
Meet the "average" triathlete in either Sarasota or Tampa this weekend!
You can also pick up the book on Amazon, Barnes & Noble or any bookstore. It's also on Audible as an audiobook.