When I started triathlons nearly five years ago, I went out and bought myself a pair of Zoot sneakers. I absolutely loved those shoes and believe it or not, I still have them sitting on my dresser! The reason why I loved them was that they were soft, fast, and easy to take on and take off during the transition phase of the triathlon.
The new Zoot Ultra TT Fade Sneakers remind me of that shoe. They are made for racing and they are fast!
Features
With a 3mm drop, your foot is pretty flat to the ground. The shoes are flexible and extremely lightweight. What's really cool about these new sneakers is it has "tri-dry" drainage holes which allow water to escape. (How many times have you competed in a triathlon that had a downpour???)
The drainage holes help reduce blisters and cuts down excess shoe weight caused by water retention.
The Tri Mechanics design allows for a quick turnover and highly responsive ride, helping you run faster off the bike.
Interestingly, it has a quick transition feature that includes quick entry elastic laces and a heel/tongue pull loop. Put it in position and you're ready to go.
These shoes are considered neutral stability shoes. I love the exterior of orange that fades to pink and the interior has a Hawaiian theme. (The company was founded in Hawaii!)
The toe box is not wide. This shoe acts as an extension of your foot.
Taking it for a test drive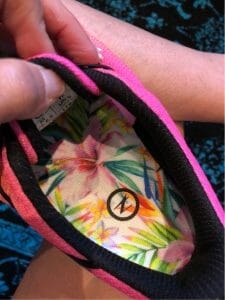 I decided to try it out on a brick. I rode my bike for about 10 – 15 miles and then ran off the bike. The first thing I noticed was the comfort and the cushion as I stepped down. I also liked the low drop. (I'm used to wearing sneakers with an 8mm drop so this was a visible difference.)
After the brick, I decided to try them out during a Swim/Run at Tobay on Long Island. Again, I loved the feel and bounce. These are perfect for multisport!
The thing about these shoes is that they are fast. They want to take off! They are absolutely perfect for a triathlon. I would make sure to break them in but use them just for racing and you will thank me for it!
What I don't like about them is that they don't really work barefoot. The other day I wore them without socks and I found them uncomfortable to put on and my foot was not happy. So, if you buy these shoes, make sure to wear socks, especially during a triathlon.
The price is $135 and you can pick them up on the Zoot website at https://zootsports.com/collections/womens-footwear/products/w-ultra-tt-shoe-fade.