The new Under Armour Phantom 2 Sneakers were launched to the general public on July 27. The new sneaker is different, interesting and awesome to wear every day!
Under Armour HOVR Phantom 2
When you put on the UA HOVR Phantom 2 sneakers, you feel like your foot is going into a big sock! You slip into these sneakers. There's no tongue and the laces are just for show. There is a handy pull up in the back of the shoe to help you get it on.
The toe area feels like a sock because of the stretchy material on the top of the sneaker, but the rest of it doesn't have give. These shoes are neutral stability shoes with a 9mm offset.
The interest of this sneaker
What's particularly interesting about these sneakers, they use a bike chamois as the insert of the shoe. The inserts are not removable, so if you wear custom inserts, these shoes are not for you.
I found that when I tried them on with socks, I had a very different feel than without socks. I actually prefer to wear them without socks, making me think these could be ideal for a sprint or Olympic triathlon. They are easy to put on and take off making T2 a breeze.
The UA HOVR Phantom 2 are anatomically designed to be more breathable in the upper section, have more of a sock-like fit, and fit comfortably around the ankle bone. The shoes hug your foot with cushion all around.
Taking them for a test drive
As I mentioned earlier, in my opinion, the Under Armour HOVR Phantom 2 don't feel as comfortable with socks. The toe box is not big, it's actually snug and you feel that with the socks. If you want to wear socks, go up a half size than you normally would.
Taking them on the road, they are extremely comfortable. You can wear these all day.
Connecting to the Map My Run App
The UA HOVR Phantom 2s are smart sneakers. They connect easily to the map my run app and your phone. While you run, you will get coached along, which makes these shoes very cool.
Fashionable Sneakers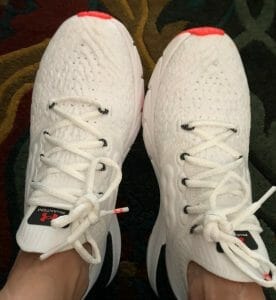 The UA HOVR Phantom 2s are meant for running. However, I also found that i like wearing them to go to the park or to "hang out." They are quite fashionable and look super cute with rolled up jeans.
You can buy them on the UA website at https://www.underarmour.com/en-us/p/running/womens-ua-hovr-phantom-2-runanywr-running-shoes/3023629.html?start=0. They sell for $150.