Now that the days are shorter, we will be training in the dark – either in the morning or after work. That being the case, it's important to wear some sort of reflective gear so that you are seen by cars and motorcycles.
I met GoFluo at TRE last month in Austin, Texas. The company makes incredible-looking and lasting reflective gear to wear during the day and into the night. Interestingly, the colors change significantly at night so that you are seen.
There have been way too many accidents with runners and cyclists and I'm surprised, not more of these types of companies are popping up.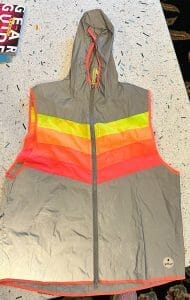 The vest is colorful during the day. The entire product is reflective and you will be seen when you wear it. It's a very thin material and almost feels like a parachute. It goes over any of your gear. I received a medium and it's huge. This way, I can layer up underneath it. It also has a hood.
The bright rainbow colors & beautiful hem will make you stand out during the day, while the reflective fabric shines bright at night. This hi-vis vest is perfect for your daily commute as it's designed with a longer back, hoodie, and two-way zip. there is one pocket in the side hem that can be used for your phone or keys.
The hoodie & water repellent fabric are perfect to keep you extra visible and dry during your workouts.
The vest retails for $75. You can buy one here: https://gofluo.com/product/women/clothing-women/activewear-women/high-visibility-vest-with-rainbow-darkflow/?attribute_pa_color=multi.