Did you see the new line of hats from Headsweats? They are great looking. And cool enough for everyday wear (which is what I've been doing — wearing them every day!).
But don't worry. The new look of Headsweats doesn't mean they have compromised on their same great sweat-wicking technology. In fact, it's even better than ever. They still make running caps and visors for runners, triathletes, cyclists, trail runners, and many other outdoor sports. Their headwear style simply means they now also make styles suited for a wider range of lifestyles as well.
I had the opportunity to check out some of the new styles and also bought a couple of new caps during the Black Friday sale.
Here's what I got for all seasons:
Winter Running
The Headsweats winter beanie is hot! I probably have worn this one more than any of the others so far. It keeps my head and ears warm, yet, it's very comfortable and not at all itchy! I love the look and will continue to wear this one throughout the winter months.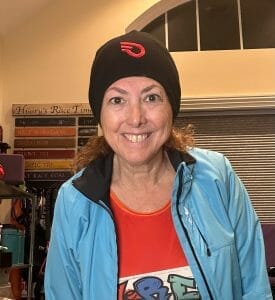 Check out the Podium Hat Making Headlines
If I'm not wearing the beanie, I'm probably wearing the Tangerine Podium Hat Making Headlines. It comes in two colors – Tangerine and Charcoal and it is made of sherpa material. The corduroy bill compliments the sherpa and is embellished with both an upgraded brass clasp and a faux leather logo patch. It's super warm and comfortable.
Spring and Fall Running
I run with a cap in the spring and fall. The new Headsweats running caps fit your head much better than the older models. They come in a variety of colors and styles and have a great fit! I've tried several and I really like the way it snugs my head but is so light, it feels like it's part of me. And, it looks great too!
Summer Running  – Headsweats Visors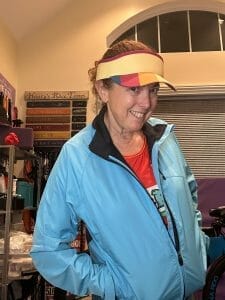 In the summer, when the weather is warm, I only wear a running visor. Headsweats make the best visors out there. To me, it fits my head perfectly and is super comfortable. When I'm sweating, it keeps the sweat out of my eyes and it also protects my eyes from the bright sun. The new line is super cute.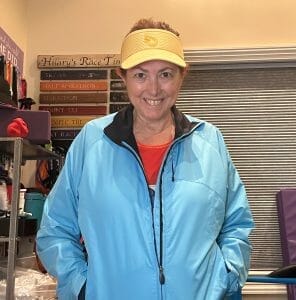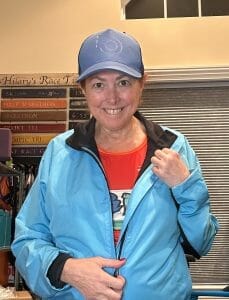 Headsweat's new trucker caps come in a variety of colors. A trucker hat such as this can be worn during a run, after a run, or when you go shopping. These new trucker hats have a great fit and a great new look with the updated logo. In addition to that, I love the trucker hat when it rains. I wear it everywhere especially on the way to the pool, on the plane when I'm traveling around, or when I'm lounging around the house. It looks great and feels comfortable, and all of the Headsweats caps are reasonably priced.
I've been an ambassador for several years and own a ton of Headsweats caps. I love the new styles because they are lightweight and look great. You can pick up any of these caps on Headsweats.com.
Have fun shopping!