I've been an ambassador for several years now and if you see me running, you will only see me wearing either a Headsweats visor, trucker cap, or a running cap. I am truly brand loyal!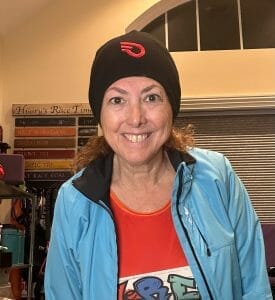 So, after I talked with the marketing team about my upcoming book tour for From Couch Potato to Endurance Athlete, which will take place in Colorado from February 15 through February 19, they agreed to sponsor the tour. I was thrilled.
About From Couch Potato to Endurance Athlete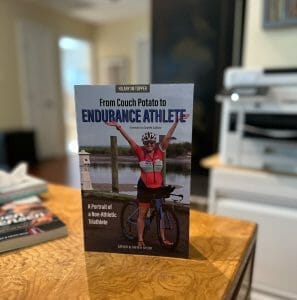 For those who have ever thought they were too old or too unfit to compete in a triathlon, From Couch Potato to Endurance Athlete will prove that it is never too late to compete! This is a story about overcoming life's obstacles-from injury and business trouble to grief and loss and everything in between.
I was a 48-year-old working mother who once upon a time had practically failed high school gym class. I was working 60-plus hours a week, running a small business. My focus was on others-her children, her aging parents, and her staff. In the meantime, her weight kept increasing, and she was unhappy with the way her life was going. She needed a change. To turn things around, she joined a gym for the first time in her life.
This book will take the reader on my decade-long journey as I train for and run my first 5K, swims the aqua-blue waters of the Caribbean, cycle a hilly course in Milwaukee, learn how to run-walk her way through the New York City Marathon, and compete in her first triathlon in Sanibel, Florida.
The reader will be right with me as I narrate each experience-even a 5-mile swim in the murky waters of Long Island. I hope my story will move, motivate, and inspire you.
In the middle of my book, there are several color photos of me wearing Headsweats caps. I truly love their product and am grateful that they will be sponsoring the Colorado tour.
Colorado Tour
We have a few stops on this Colorado tour.
The first is at Runner Roost in Boulder on Wednesday, February 15 at 5:30 pm.
Then, I'll be at the Tattered Cover in Littleton on Thursday, February 16 at 6 pm.
Following that, I will be giving a book presentation at Barnes & Noble in Boulder on Saturday, February 18 at 12 noon.
At the stops, I'll be giving out a Headsweats cap to one lucky winner. A lucky participant will also receive a Sumarpo bathing cap and Zelios Race Relief.  All participants will receive a great Sumarpo bookmark and a pencil.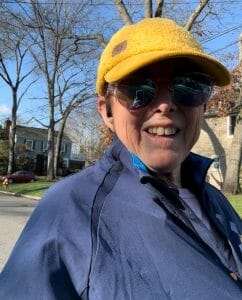 About Headsweats
Headsweats is unlike anything you've worn because it is designed by athletes, for athletes. They are proud of their 20+ year heritage – becoming an essential piece of equipment for winners in Ironman, the Tour de France, and everyday athletes' PRs! They know it takes sweat and grit for athletes to reach new heights, and they will be there on that journey.
I wear a Headsweats visor, trucker cap, and racing cap on every run and just about every day. I love the look and feel of the products. They are comfortable, durable, and a great way to show off what you love, running and triathlon!
I really appreciate Headsweat's support and can't wait for you to see what we have in store for you at these book tours!