I Took the 5-Hour Infinit Nutrition Challenge!
I had never tried Infinit Nutrition, but had heard good things about the company for several years now. I was interested in learning more about their products, since they are a WeRTriathletes team sponsor.
So, I took the challenge.
Colin Riley was my contact. He explained that there are different formulas for different endurance events. I told him I was only competing in sprint and Olympic events this year. He explained that when I'm ready to do a half or full Ironman event, that I would need a different formula that was higher in calories and protein.
The formula that he recommended for me was for running and riding under 3 hours.
Colin said that Infinit is an all in one nutrition company. "You don't need salt, gummy brears or Gu. It's so easy," he said.
He suggested that I take one serving an hour in a 24 oz bottle using two scoops of the formula.
He asked me questions about my taste preferences and developed a custom blend that was a speed/run blend. "I'm not putting protein in this because it will give you issues on the run," he said.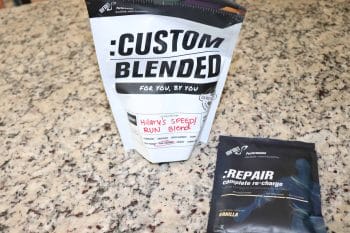 Each serving consists of 160 calories with 40 grams of carbs. When I questioned him about the carbs, he said, "carbs are a main energy source. It's easy to digest and absorb, especially when training and racing and it eliminates GI issues."
Infinit products contains simple sugars like Destrose, cane sugar derived from fruit abstract. It also comes in a variety of flavors including: Orange, Lemon Lime, Chocolate, Watermelon, and Pink Lemonade. He asked me for my preference. I said, "pink lemonade."
Colin wanted to know what I thought of Gatorade and how sweet I thought it was. I gave it an 8 out of 10 for sweetness.
"How much do you sweat?" he asked.
He then talked about the electrolytes in the blend and said that it can consist of 275 mg to 670mg of salt. Since I tend to sweat a lot, he gave me 375 mg of salt. "You can always bump it up," he said.
He asked me about caffeine. "You can put in 0 to 200 mg of caffeine." I ended up going with 50 mg.
We spent about a half hour or so on the phone discussing my training and obstacles I find myself facing. The consultation was free and anyone interested can go on the website and sign up.
He sent me the 5-hour sample pack to try out along with Repair, a vanilla drink that you mix in Almond Milk to enhance recovery.
It came within a week and I tried it out. The sample pack gave me enough for about five different runs/bike rides, but enough to know that I liked it. It also came with a small sample pack for one serving of the Repair.
I tried it out and liked it. I could taste the salt in the mixture and it wasn't that sweet, enough to be refreshing. I liked it so much that I ordered a full sized bag of both the Before and During Formula and the after training recovery drink, Repair!
As a reader of this blog, you can get 10% off from Infinit Nutrition by using the code: WeRTri10!