Most bars are filled with preservatives and either lots of sugar or lots of sugar substitutes. So, when Kate's Real Food approached me and ask if I would be interested in checking out their new product, I obliged.
How it happened…
Kate was a ski bum in Jackson Hole in the late 1990s. She was looking for an energy bar that tasted great and was made for quality organic ingredients. She also wanted a bar that could sustain her energy for hours. Since she couldn't find one, she decided to make it herself.
Adventure Sports Network voted that Kate's Real Food was the "best tasting bar at REI."
What's in it?
Kate's Real Food consists of six different bars — Stash Bar – Peanut Butter Hemp & Flax; Bivy Bar – Lemon Coconut; Handle Bar – Dark Chocolate Cherry & Almond; Grizzly Bar – Peanut Butter and Dark Chocolate; Tiki Bar – Mongo Coconut, and Tram Bar – Peanut Butter Milk Chocolate.
Each bar is made from organic, real ingredients. Kate's Real Food is all non-GMO, uses all-natural honey as the sweetener, gluten-free and USDA organic.
They are 130 calories a serving or 260 calories per bar, perfect for a triathlon or a long run/ride. I would break them up into small pieces and as I was running or riding, eat a little to keep me going.
How do they taste?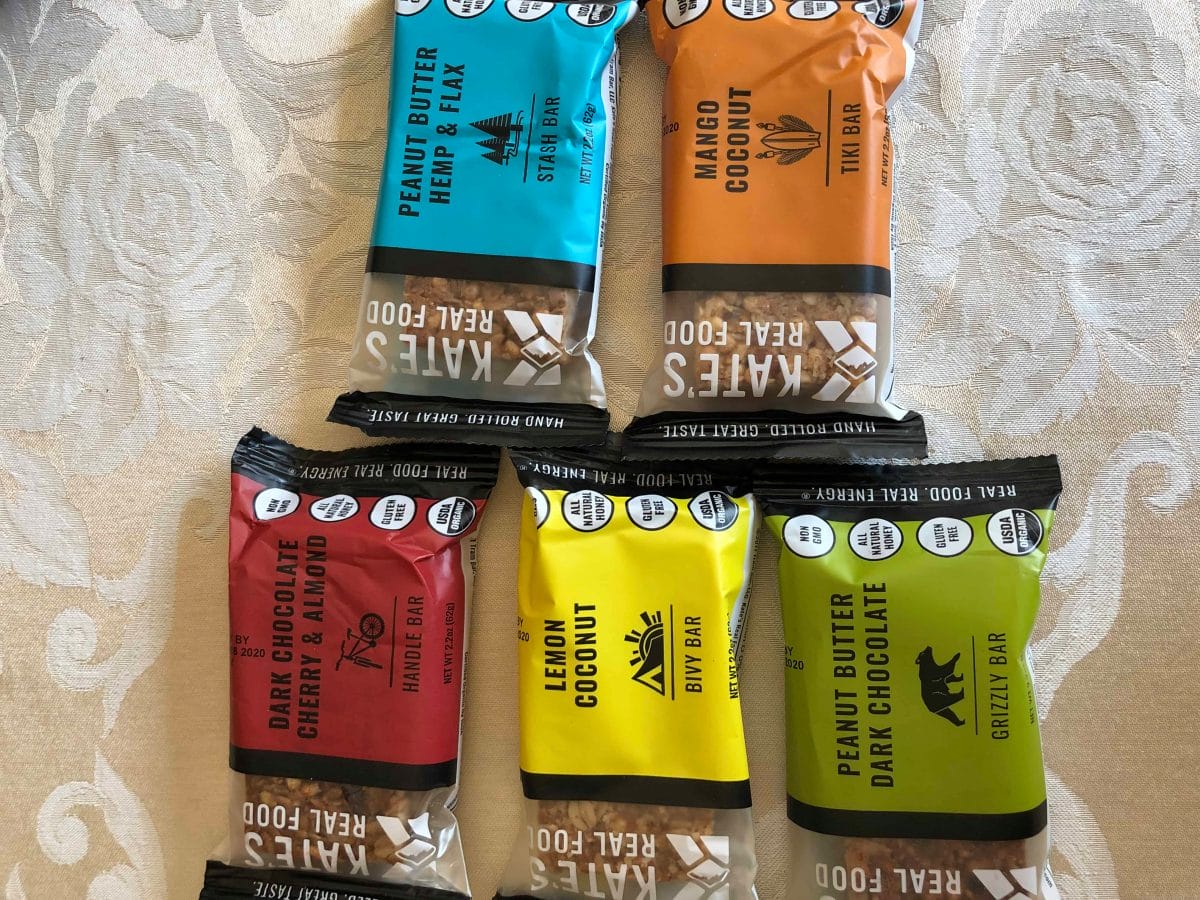 They are delicious. I'm not sure which one is my favorite but I tasted a sampling of each and they are downright good!
In each bar, you can both smell and taste the flavors. So, for example with the lemon coconut, you can taste the lemon and the coconut. The flavor is that distinct.
The total carbs per serving range from 15 grams to 20 grams. They all have only about 3 grams of protein per serving.
Kate's Real Food's slogan is "Real food. Real energy. Great Taste," is accurate. It is all real, provides energy through the carbs and tastes great. I would definitely recommend this one! You can pick them up on the website at https://katesrealfood.com/ or by going to Amazon.