When you run in a group, you truly connect with the other runners in the group. You may come from different backgrounds, and yet, running is a binding force that attracts you to other runners. Everyone has a story about how running has impacted their lives. Life is a Marathon, by Matt Fitzgerald, is a metaphor for life, love and running.
Matt Fitzgerald published many books including Racing Weight, 80/20 Running, 80/20 Triathlon among many other books on the subject of endurance sports. He is an excellent, descriptive writer.
Life is a Marathon
Life is a Marathon – A Memoir of Love and Endurance is startling at points. I commend Matt Fitzgerald for sharing his story about his relationship with his wife, Nataki, who has bipolar disorder, because this is an important subject that very few talk about.
At each of these marathons, he meets runners and talks with them about their running backgrounds. They share their stories, their challenges and their reasons for loving to run.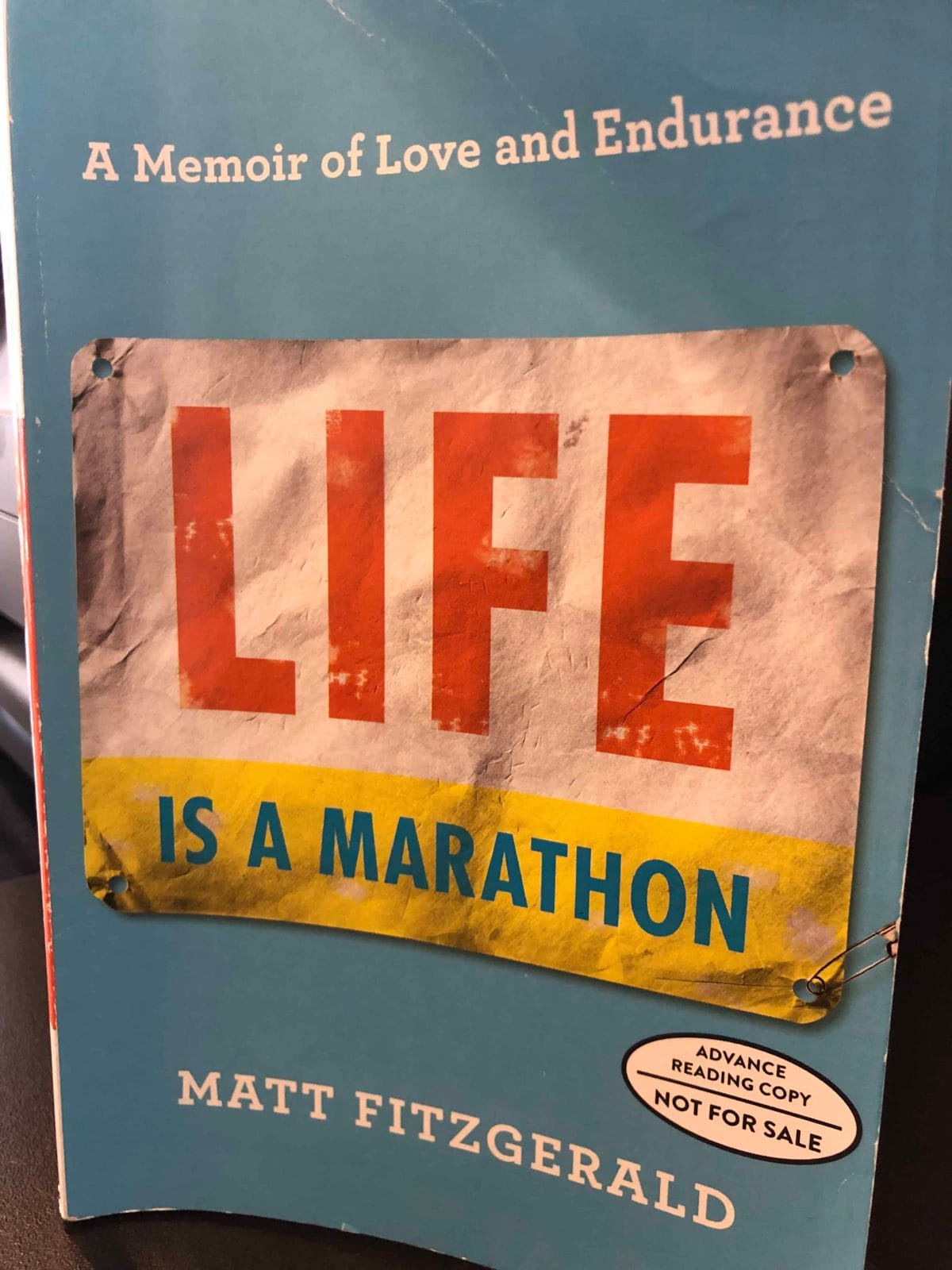 Mental Illness
Life is a Marathon is a story about mental illness and how although we've come a long way in accepting it, there's still a long way to go. Matt talks about how most psychiatric hospitals are horrendous. One of the most compelling statements he made was when he barged into the psychiatrist's office. Before that, Nataki was having an episode and tried to strangle Matt, at which point, he called the police. At the psychiatrists' office he said:
"Nataki has been hopsitalized seven times since 2004. Seven. Something's got to change. We're chasing our tails. There must be a different option we can try – a stronger drug, a combination of drugs,m I don't know. All I know is I was almost burned alive last night. Natkai nearly got herself shot – not for the first time. You have no idea what we've lived through. Please help us. PLEASE. We're losing hope."
This comes at the end of the book and at that point, I had chills. I worked for a psychiatric rehabilitation center as the public relations director many years ago and I know how hard it can be for the consumer and for the family. I was impressed with Matt's diligence to find help for Nataki. He stayed with her and although many times throughout the book, he escaped for fear for his life, he always came back to her.
Life is a Marathon is an incredible journey that keeps you on the edge of your seat. It's one of those books that you can't help but continue to read. Matt Fitzgerald did an excellent job explaining what life is like living with someone who has bipolar disorder and doesn't have the right medications to control it. He shares his experience in a way that is quite compelling.
The book is also about all of the marathons Matt ran along the way.
I loved the book and would highly recommend it to anyone who loves running or endurance sports (or anyone else)! You can buy it at Amazon.