I never swam in High School or College. I never swam period. Anything athletic was not for me. But when I turned 53, instead of buying a motorcycle and riding the Pacific Coast Highway, I decided to learn how to swim, bike, and run and do my first triathlon. Now, I'm 59 years old and I just swam from Fire Island to Bayshore in four hours.
I had heard about the Maggie Fischer Memorial Cross Bay Swim at least six years ago when I started training for triathlons and endurance sports. At that time, I could barely doggy paddle 25 yards.
But thanks to some patient swim instructors and a great triathlon coach, I learned to swim 25 yards straight and then 50, then 100, and so on.
Toeing the start line at the Maggie Fischer Memorial Cross Bay Swim was just the finale of a long five-month training period. It's funny looking back to last year when Ray, my training partner, and I swam 2-miles at Tobay Beach. I was thrilled then!
This year, I averaged around 17,000 yards per week either in the pool or in the open water.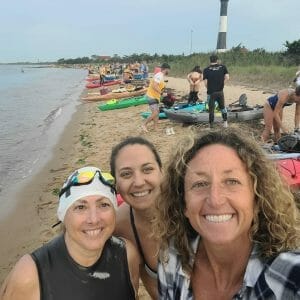 When Maggie Fischer was postponed in July, it was a letdown. But, I got out there with my friend, Thomas, and swam 5.25 miles just to prove to myself that I can get it done.
On the day of the event
Derek, my son, committed to kayaking for me during this race. He wasn't an experienced kayaker and I knew that there may be some issues going into this event. We went out once or twice on his blow-up kayak but he never kayaked in the open water. We were going to bring the blow-up kayak, but the race organizers told us it wasn't a good idea. I frantically started looking to buy a kayak.
Phil, a team member, graciously loaned Derek and me a kayak to use during the race. He dropped off the kayaks at Bayshore and they were loaded on the boat.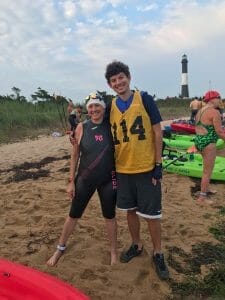 When we got to the event in the morning, we were brought from Bayshore to Fire Island via the Ferry.
Once there, we unloaded, registered, and waited for the boats to unload so that we could bring them down to the shore.
We all had about an hour to get ready and go into the water. Before the race started, Katie and I hugged and wished each other luck.
And then, we all took off.
I'm not sure what happened after that, I continued swimming and looked around. It felt like there was no one near us from the very beginning.
"Do you see where to go?" I asked Derek. He said he was following the people in front. But I didn't see anyone.
Although we may have gone off course, the first two miles were uneventful. The water seemed mellow and I was in my happy place. I wanted it to go on forever!
Then the water started to change…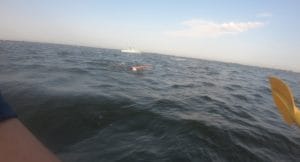 It became very choppy and with the chop, I couldn't see in front of me. I didn't know if we were going in the right direction. I couldn't see the buoys or the boats, I was too low down in the water.
Suddenly, Dave, one of the volunteer kayakers saw us and he told me to follow him in. I told Derek to stay with us. He said that we were way off course and would take us to where we should be. I started to follow him and with his bright colors, it was easy to spot him. Derek stayed by my side. He kept getting pulled out but then circled around and made it back.
My Garmin Fenix 5S
When the race started, I turned on my Garmin to track the race. I never shut it off, even when I stopped to take in some gel. For some reason unbeknown to me, the Garmin shut off for almost an hour, giving me this false sense of where I was at on the swim. I thought I had plenty of time. When I looked at my watch it said I was at 2:40 min. But when I spoke with Dave, he said I only had an hour left, then 20 minutes left. I didn't know who to believe. It was very disorienting.
Between looking at my watch, the chop so rough, and my arm in so much pain, I was no longer in my happy place.
Derek was very helpful and kept offering me gels and The Right Stuff hydration.
But, Dave was saying we didn't have long before the course closed and told me to keep swimming. I was worried we wouldn't make the cut-off. (And yet, if we didn't, it was okay because I already swam more than 5 miles with Thomas.)
I kept trying to channel Maggie Fischer, the young woman the swim was named after. Maggie was a High School swimmer who was going to swim this race but a few weeks before it took place, she had a tragic car accident.
I knew she was there, I could feel her in the water. She had to be helping everyone through this swim…
Throughout the swim, I kept feeling fish
I would feel them nibbling on my fingers as I came in for the catch. One time, when I was taking a good pull, I found myself hitting a big fish. It startled me. I looked around and saw Derek and continued swimming.
The other strange thing that happened, when I was between miles 4 and 5, I entered a very salty patch. It was as if someone dumped salt right there in the water. I could barely breathe it was so salty.
I thought about quitting but that wasn't an option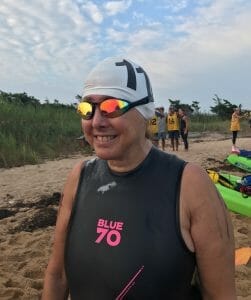 The water so was so intense and choppy, I seriously thought about quitting. I had been swimming for so long and my shoulder was killing me. It stopped working. I had to actually start breathing out of my right side to alleviate the pain. It would have been easy to DNF.
"Where is the push?" I asked Dave the kayaker. "Don't you feel it?" I didn't feel anything. I felt like everything was fighting me.
I looked over at Derek. He and his sister have always been my inspiration. He smiled at me. I was going to finish this!
I was about a 1/2 mile from the beach and could barely see where I was going. Seeing two small beaches, I wasn't sure where to aim. Then I saw a Finish Line. I kept stopping and asking "where am I going?" (That seemed to be the theme of this race… where am I going?)
At that point, I had a parade of boats and kayakers surround me. Dave pointed in the direction of the finish line. I swam as hard as I could and it was pathetic because at that point I couldn't move my body. The more I pushed the further I felt from shore. Derek offered me a gel and I shook my head. I had to finish. I had to do this…
Finally, I got to the beach and was greeted by Shawn of Total Master Swimming and Danielle of Iron Fit Endurance. Katie was also there, she finished about a half-hour earlier.
All I could say as I got to the beach was, "that was the hardest swim I ever did."
Although my arms were barely working, I ran through the shoot and gave a signature pose.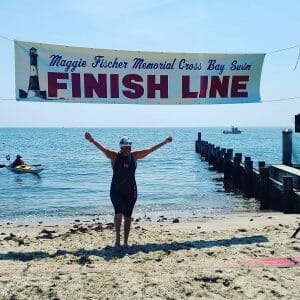 At the Awards Ceremony
Danielle said, "don't leave, you're getting an award." I was so exhausted and collected my swag bag and my purchased tee shirts.
I grabbed half a bagel and some water and tried to organize my stuff.
Finally, I heard my name called and I went up for what Thomas called, "the goober award," but the Maggie Fischer folks called it the Endurance Award. I came in the last place, but I didn't care. I finished the race and that's what I set out to do. (Hey, every race should have a last-place award!)
This one I had to dig real deep to finish it and I'm proud of myself for getting it done! It really was a huge accomplishment, especially from someone who learned to swim six years ago!
* One of the committee members reached out to me on Instagram and said, "the Endurance Award is the highest honor at the Maggie Fischer Swim. It goes to the most tenancious swimmer that sticks it out and achieves their goal."