Although I didn't think Mighty Man Montauk was going to be my last race of the season, it was and it was super fun! This was the first time I competed in a relay of any kind.
Mighty Man Montauk Race
The race was originally scheduled for September 2020. Irem, Bill, and I, all runners from the same WeREndurance Walk/Run Team, decided to do a relay. Our teammate, Ray, was signed up for the full 70.3, his first, and Monica, another teammate, was signed up for the Olympic Triathlon, also her first official Olympic. (We all did the race virtually in 2020 with no medals or awards.)
Due to the pandemic, Bill was unable to get a road bike so he dropped out. So, I reached out to Morris, a friend I've known for a few years, and originally met in my Entrepreneurs' Organization's forum. Morris was instrumental in getting me to learn spin. He also traveled across the country via bike so I thought he would be perfect.
I planned on swimming the 1.2 miles in Lake Pond; Morris was going to ride 56 miles, and Irem was going to run a half marathon.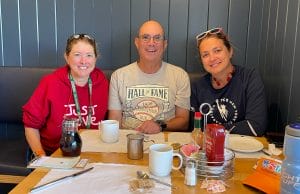 The Day of the Race
I had booked a room across the street from the race site, but at the time, I thought I was still doing IMNC70.3 and wanted to save the money. (At IMNC, I booked a flight, car, and gorgeous condo on the beach. It was all good, but going to cost me.)
I asked Ray if I could hop a ride with him.
Ray picked me up at 3:45 am that Sunday, October 3. The drive was uneventful and we got to the race site with plenty of time to spare before the race start.
Race Start
I put on my new Sumapro Wetsuit (btw, I have a 20 percent discount code. Use code Hilary20.). I also put on my neoprene booties and I'm glad I did. The water was cold but not terrible. There were so many rocks on the bottom of the pond, the booties made it much easier to get through it.
The swim in Pond Lake is awesome. First of all, it's fresh water, which feels so good after swimming in salt water most of the time. As we were swimming, the sun was rising from the east. Every breath I took, I looked over at the sun and felt its beauty and warmth. At times, I watched as it rose in the sky and illuminated the water.
There were only about five people in the relay wave and we went last. What was nice was that no one was around me. I didn't have to fight with anyone, I could just swim. The red buoys (directional buoys) seemed to come up fast. There was one yellow buoy, which is a turn buoy early on. I swam to the right of it. A lifeguard blew his whistle and told me to go around on the left of it. It didn't make much sense but I complied.
I swam to the end of the lake and turned around. I started to catch up with some of the other waves. Some people were struggling but I kept going. I tried to stay in my head.
I absolutely loved the swim. I didn't want it to end. I kept thinking about the first time I swam in Pond Lake nearly six years ago. At that sprint triathlon, I raced for my friend Jim who was dying. He had both of his legs removed and when I saw him, I wanted to do something to honor him. I started to think about all the people who had passed in my life and I swam for them, all of them. I thought about my dad and how he loved the water. He wasn't much of a swimmer, although he thought he was. I was swimming for him too.
The Bike
Within 50 minutes, I exited the water and handed my timing chip to Morris who took off. We didn't see Morris again until the end. He rode for about four hours up and down some steep hills. The one thing I noticed was that he only had water with him, two bottles to be exact. That concerned me but since he was an experienced rider, I let it go.
Meanwhile, during those four hours, Irem, Bill, and I had breakfast. Bill had come in for the day to watch the race and, he said the "pancakes were delicious." I had eggs. They were a little too runny for my taste, so instead of sending them back, I didn't eat them. Breakfast was a lot of fun, although since Irem was so nervous, she felt like she couldn't eat.
After breakfast, we saw Monica. She had just finished the Olympic race and she placed! I was so proud of her, we all were! We hung out together for a while then Bill grabbed a couple of chairs and we sat and watched the bikers and runners come in from the race. In the half distance, bikers and runners had to do two full laps.
The Run
When Morris came back, he handed the chip to Irem who ran for 13.1 miles on a tough, hilly course. At that point, it was time for lunch. Bill and I went into town in search of a hamburger. I had not eaten the eggs in the morning and at that point, I felt starving! We found a really nice restaurant and got a table for five, figuring that Jon, another runner in our group who had come out for the day, Morris, and his girlfriend would join us. No one joined us.
Jon was running around Montauk looking for Ray. And, Morris and his girlfriend were in the white tent. He said he needed to be out of the sun and wasn't feeling right.
After lunch
Bill and I walked over to the white tent. Bill stood outside while I walked in. I found Morris on the floor in terrible pain. I felt so bad. He turned pale white and his leg was cramping badly.
I told the volunteer to get a medic but when they came over, Morris didn't want any part of it. Personally, I thought he needed an IV with fluids but he didn't want it.
Thankfully, his color came around and when Irem came in at 2:40 minutes, we all snapped a photo!
After that, we had Ed Grenzig take a photo of Ray, Jon, Morris, Irem, and me. Unfortunately, at that point, Bill had gone back to Queens so he wasn't in the photo.
Wrap up on the day
It was great seeing Ray finish the 70.3. I was so proud of him. We had trained a lot together and seeing him do well and finish was amazing!
It was also a blast doing the relay at Montauk. We had so much fun doing it. But mostly, it was great spending the day with Bill. We had an absolute blast!