As the holidays approach, I'll be sharing some interesting ideas for holiday shopping for yourself or for the triathlete or runner in your life. This is the first in a series of gift-giving ideas for you and your family.
---
First of all, the Icebreaker base layer is ridiculously thin. So, at first, I was thinking it won't be effective. I was wrong! This base layer is perfect for those cold winter days which will continue to follow through April. At that point, you may even want to consider wearing the base layer as a stand-alone. It combines the temperature regulation, breathability, softness, and odor resistance of premium merino wool. It has strategically mapped heat dumping and insulation zones which makes it perfect for running or cycling.
The garment comes in two colors – black and redwood. It sells for $95 on the website and 98 percent of the people who have this base layer love it. You can pick it up here: https://www.icebreaker.com/en-us/womens-baselayers/bodyfitzone-merino-150-zone-long-sleeve-crewe-thermal-top/104331.html?dwvar_104331_color=632.
43CBD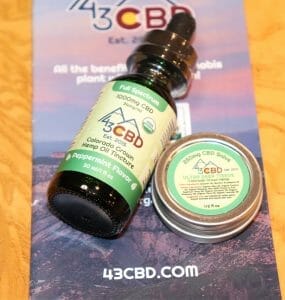 This new product made in Durango, Colorado provides all the benefits of cannabis without getting high! The company sent me a tincture and salves. The tincture comes in Cinnamon, Peppermint, and National Hemp Flavor. They say that CBD is great for anxiety, depression, and post-traumatic stress. Perfect during this pandemic and it tastes great! (I've tasted CBD in the past and it was just awful. This has a nice flavor. It's smooth and goes down easy.) CBD is also great for inflammation and the Salve is 250 mg of CBD for ultra-deep tissue. Here's the link: https://www.43cbd.com/
Halomask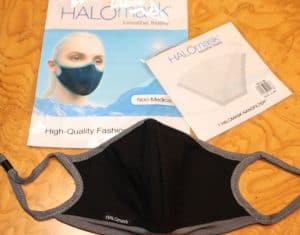 I keep getting masks and I keep thinking when am I going to try one that is great for running or just being active. The HaloMask is just for that. It comes with two interesting features — an extra filter and a nose piece so it is soft on your nose and comfortable. It's soft and really feels good on my skin. It contours your face and it comes in sizes, so be sure to measure your nose to your chin before ordering. To clean the mask, put it in a bowl with hot water and detergent. If you want you can add eucalyptus or lavender to further disinfect. Hang to dry and you're good to go on your next run or ride! Great stocking stuffer! Here's the website link: https://halolife.io/.
Drink Wholesome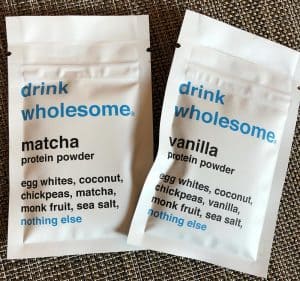 You can buy two of these packets for $5 and put them in your triathlete's stocking! This protein powder is all-natural and made with egg whites, coconut, chickpeas, monk fruit, and sea salt. If you order vanilla, there will be vanilla included. If you order the Matcha, Matcha is included.
I love that they are all-natural and used after a workout. You can order them here: https://www.drinkwholesome.com/
---
Stay tuned for lots more interesting gift giving ideas…