NuVent Boot and Shoe Dryer Review for Runners and Triathletes – I wrote this in February 2017 but I still use it!!! It's a great product. Read on…
—–
After seeing the videos of athletes running through calf high water in Ironman Maryland and after experiencing puddles and multiple blisters during my NYC Marathon training, I became obsessed with trying to find solutions to blisters.
Even when I didn't step in puddles, I found that after hours of being in my shoes, they were moist anyway! So, when I met the NuVent folks at the recent TRE (The Running Event) in Orlando, I was intrigued. They were there marketing the NuVent Boot and Shoe Dryer.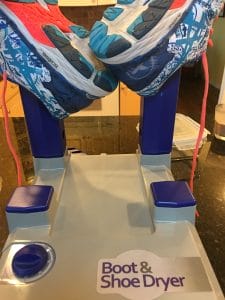 Interestingly, I had one of these boot dryers for my ski boots and they worked great. The only problem was transporting it via the plane to various ski locations. But here, I could use the NuVent Boot and Shoe Dryer on my sneakers in the luxury of my own home!
I used the dryer twice prior to this review. Once when it was raining and my shoes were soaked. Within an hour, the sneakers were dry and ready to go again… however, I was not!
The second time I used the dryer was when I decided to wash my NYC Marathon Asics sneakers in the wash. When I was running in St. Maarten a couple of months back, I stepped in multiple mud patches and the shoes were black. I washed them twice. Then I put them on the shoe dryer and again within an hour, they were fully dry and ready for use.
The NuVent Shoe Dryer is definitely one of those items to have around the house, especially if you are a runner or triathlete. It will be useful! And, I've been finding that once I started using it, I'm using it more and more!
According to their website, "drying inhibits odor due to bacterial growth in wet shoes and gear. The NuVent Gear Dryer dries using only air, which means it will not damage the waterproof technical fabrics often found on athletic shoes, and will not harm leather."
Here are a few other features:
180-minute timer and manual on/off function for air-only drying
Durable design, built to last
Dryer arms extend and retract to accommodate both tall and short items
Quiet, energy efficient DC motor
1-year limited warranty
For another gadget that you think you don't need, definitely think again. I've found that when I get my sneakers wet, it could take a day or two to fully dry. With the NuVent Boot and Shoe Dryer, they get dry in under two hours!
Here's a short video: