NYRR NYC Marathon Virtual Trainer and VIP Package – Is It Worth It?
When I paid the $1,000 five months ago for the VIP and virtual trainer package, I wished there was a review post like this one to help me with my decision to purchase this package, which included:
Virtual Trainer for 20 weeks with daily updates and access to NY Road Runner Coaches
2 Passes to the Marathon Dinner the night before the Marathon
Heated tent and breakfast at the Marathon
4 Passes for access to the Grand Stand
Why did I opt for this?
I wanted to go VIP ever since I heard that there were heated tents and knew that every year is notoriously cold at the NYC Marathon.  There was one year where it actually snowed! I didn't want to be sitting outside for hours waiting for the start of the race. The rest of the package was just more benefits to that.
Virtual Trainer:
I like the virtual trainer program that the NYRR use. It uses your past stats to develop a plan especially for you. However, there are other variables to just data, like recent injuries and emotional well-being, among other things. They suggest that you run four days a week. Since I am a triathlete, the most I ran was three days a week, sometimes two days and I found that sufficient.
The thing I found fascinating was that the VR predicted my time and it was pretty spot on, off by five minutes!
Marathon Expo:
After picking up your number, you will need to pick up your VIP package that includes your wristband for the bus entry and tent entry the day of the Marathon. You will also receive your tickets for the Marathon dinner and badges for the Grandstand. The problem is, none of the volunteers know where to go. It took me nearly an hour of walking back and forth and asking dozens of people before finding the right place. (I was not alone. There were several other VIP's who told me the same thing.)
Marathon Dinner:
I was excited to go to the Marathon Dinner that was held by Tavern on the Green in Central Park. My husband and I went early and it was still packed with people. We were directed to a line to get the pasta. They served fettuccine Alfredo, lasagna, grilled chicken, salad, dinner rolls, an apple and pretzels in a "to go" container. We also got a "free" beer and water.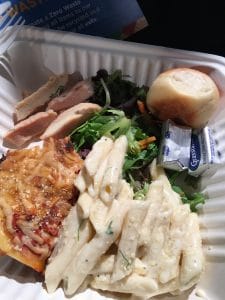 Once we got our food, we went inside the main hall. It was very loud with blaring music. You could barely hear yourself think. We found a high table that wasn't used and my husband found a chair for me. He stood. After we ate, we walked around. Overall the food was okay, not great, but it's hard to make great food for so many people, isn't it?
It was cool to see the wall with every runner's name on it.
There was an Asics store with finisher paraphernalia, but everything was so expensive. I figured I would buy once the materials go on sale on the website. It was interesting to see the Tiffany medals given to the 1st, 2nd and 3rd Place winners. They were gorgeous.
We walked out and went into Tavern on the Green. It was much more mellow there. I wish we knew that we could eat there too because the main room was intense.
We stayed for approximately an hour and then walked back to the hotel.
Heated Tent and Breakfast:
The VIP'ers had a private bus that took us to Staten Island on the morning of the Marathon. It was a heated luxury bus and left the Marriott Marquis at 6:00 am. We arrived in Staten Island an hour later.
When we got off the bus, we got on a very long line with the rest of the runners. After security, we had access to the heated tent and I'm glad we did. Although it was a relatively warm day, it was still cool and windy outside.
I found a chair. The place was packed. I'm not sure how it filled up so quickly, but I assume others who didn't buy the VIP package were there as well.
The breakfast was okay. I'm glad I brought oatmeal because I don't think I would have eaten otherwise. There were bagels and muffins but they seemed stale to me. I had some Dunkin' Donut coffee. I was happy they had that there!
They also served Power Bars, Orange Juice, Water and Gatorade. I kept drinking as much as possible. I wanted to be totally hydrated before getting on the course.
I was a little surprised that we didn't have better bathrooms. They had the same Porta Potties as they did everywhere else. I was hoping they were going to be a little nicer.
Grand Stand Passes
If you can sub 5 hours the NYC Marathon, then it's a good idea to have Grand Stand Tickets. If you are a "slow" runner, then this option may not be appropriate. For me, my guests could have had access without the passes because there was little to no one there at the finish line.
Do I think the VIP passes were worth it? 
For me, sitting around for 3 – 4 hours the morning of the race in the freezing cold would not have been an option. So for me, it worked.