Skechers is not only a great sneaker and shoe company but they also make affordable running, run/walk, and gym apparel.
The other day, a representative from the company sent me a care package to review for this blog and I'm so glad she did. Sometimes because something is less expensive, you may not think that the quality is good. But that's not the case with Skechers.
Here are awesome holiday gift ideas for the runner, triathlete and/or "gym rat" in your life: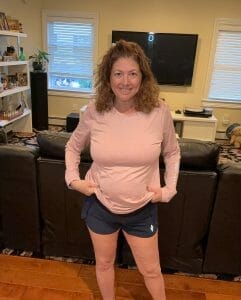 This long sleeve tee shirt is perfect for running in fall and winter (as a layer). It's soft, comfortable, and comes in three colors – pink, lavender, or charcoal. It goes with practically anything and can be worn during a run or ride. It is extremely lightweight, has lots of stretches, is moisture-wicking, quick-drying, and has UPF 40 protection. Price: $39
Also pictured above is the Skechers Apparel Going Places Run Short: https://www.skechers.com/skechers-apparel-going-places-run-short/W2SH67_NVY.html. These shorts are great for the gym or for running outside when the weather warms up. They are very comfortable and have underwear attached which makes them even more comfortable. Price: $44.
These pants are stretchy, high waisted, and you can wear them all day (if you want). They are super comfortable and I love the fabric and pattern. They are stretchy, lightweight, and soft. They also work perfectly with the Godri Swift Long sleeve. That would make a fantastic gift for the runner or the run/walker in your life! Price: $59.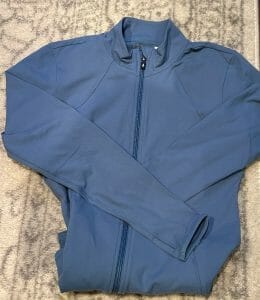 This GoWalk Mesh Jacket is perfect for running in the fall and winter (with layers). I love the baby blue color but it comes in seven other colors as well. The size range is from xs to 3xl. It's made of 88% nylon and 12% spandex, making the jacket snuggly comfortable! It has a zip-front mock neck and two pockets. It also has thumb holes for those days that you want to keep your palm protected. It has a breathable back power mesh trim so that the sweat doesn't stay with you. The price of this jacket is $34.99. Definitely worth picking up for you or the runner in your life!
This sports bra is so comfortable and soft. The only issue, I would recommend getting a smaller size to keep you from bouncing. Otherwise, I felt like this was easy to get on and take off. Personally, I would wear this during a bike ride and wear something more supportive during a run. It wicks away the sweat and dries quickly. May be perfect for a swim under your tri kit! The price is $29 and this would make a great stocking stuffer!