I had never heard of Ryka before attending The Running Event in Austin in December. But there they were along with four women at a women's only shoe booth in the middle of the convention floor.
After walking over to see what they had, the women explained that these sneakers are specifically made for women by women. Sheri Poe is the owner and the company's mission has always been to create athletic shoes specifically for women. 
The No Limit Training Shoe by Ryka
These cross-trainers are great for training runs, agility training, and cross-training. They have lightweight shock absorbers and impact protection built into the shoe.
The interesting part of these shoes is that they are designed for a women's unique foot shape, and muscle movement. It has a large toe box and a narrower heel. They are extremely comfortable and I've worn them several times on my run/walks.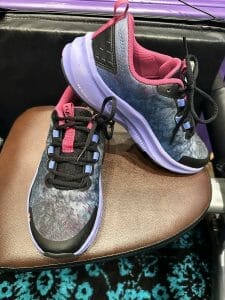 The outsoles are durable rubber that easily helps you pivot and turn. They have an 8mm heel-to-toe drop.
The No Limit Training Shoe has gotten 5-star reviews on the website. They retail on the website for $129.99.
What I thought of the No Limit Training Shoe by Ryka
I really enjoyed these shoes. However, I felt that the Ryka No Limit Training Shoes are not shoes I would wear to a race. They were not built for speed. They were built for all-day comfort. Ryka No Limit Training Shoes are a good, solid cross trainer that has a nice high arch and a comfy toe bed. Every time I wear them, my feet feel happy!
To pick up a pair go to their website at: https://www.ryka.com/product/womens-no-limit-training-shoe-5270394/black-purple-07036