In collaboration with clinical dietician and nutritionist, Alicia Romano, the team at America's Test Kitchen developed, The Everyday Athlete Cookbook – 165 Recipes to boost energy, performance, and recovery for the "everyday athlete."
The first 30 pages tries to educate the reader on what to eat, when to eat, and how to properly fuel for a workout.
The rest of the book is divided into different meals and recipes to go hand and hand with those meals.
For example:
Pre-workout meals that fuel your exercise: fill up on Pumpkin spice Waffles with Yogurt and Blueberries to get pumped for your exercise of choice.
Post-workout meals that promote recovery include Lambe Meatballs with Lemony Wild Rice and Artichokes.
Energizing snacks/drinks to optimize your performance try homemade Powerade to energize your workout while cutting out excessive sugar.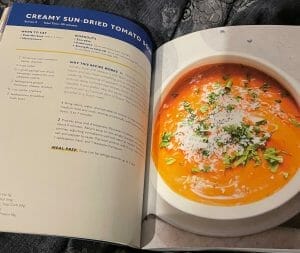 What's Different?
The Everyday Athletes Cookbook includes menus for dietary specifications like "plant-based" or "dairy-free."
What I liked:
I loved the fact that The Everyday Athlete Cookbook educated the reader. It provides very helpful information. The recipes are interesting. I particularly was interested in the Lemon-Herb Couscous with Chicken and Dried Cherries and the Lemon-Poached halibut with Roasted Fingerling Potatoes.
The book also has protein shakes, breakfasts, lunch, and snacks to keep your energy up for training.
I just thought a lot of the recipes seemed a bit complicated and were more geared for someone who loves to cook, rather than someone who is always on the go. But if you love to cook, this book is certainly for you!