When I first started swimming about six years ago, I bought TYR bathing suits. I had heard about the brand and it was basically between the TYR and the Speedo. I ended up buying both. After that, I just bought the TYR bathing suits because I loved the fit.
The more I tried different brands, the more I kept coming back to the TYR. The bathing suits last, they are inexpensive (if you find them on sale), and they are comfortable.
TYR Bathing Suit Styles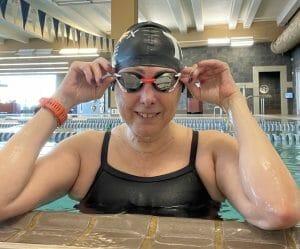 I love the give on these suits. They have different varieties of suits on their website (and they have great sales too!). Here are some of the different styles:
Diamondback – This bathing suit has thin straps and the opening in the back creates a "diamond".
Tie-back Suits – These you actually tie in the back. The straps are very thin like the diamondback.
Cutoutfit – This has a low neckline, sleek/flexible straps, low back, and high cut leg, the Cutoutfit is ideal for athletes who want minimal coverage with reliable support.
Surge Diamond Fit – This has a medium neckline, sleek/flexible straps, keyhole back, moderate cut leg. The Diamondfit is ideal for athletes who want reliable coverage during every swim.
Surge MaxiFit – This also has a medium neckline, keyhole back, and moderate cut legs. However, it also has thicker straps, which I prefer. I only wear the maxi fit.
Technical suits – These have longer legs and have more coverage to keep you from having drag in the water. They help increase efficiency and have a mid-grade compression to help maximize core stabilization and support.
New Suits
I recently had the opportunity to check out the Fizzy and Solid Diamond Controlfit Suits. They were double layered and had elastic to "tuck you in." I had a little trouble getting them on but once they were on, they were super cute and highly effective. I felt like they just helped me glide through the water. I would highly recommend them.
Discount code
If you are interested in getting a TYR bathing suit go to the TYR website and use the code: HILARYWORKOUTSWIM for 10% off anything on the site! Happy shopping!