The women's race was on Sat, 9/1 and they had great weather. They did
have cold water, 19 C or about 60 F and some winds on the bike and nice
warm weather, probably too hot for some, I'd a loved it.
The men raced on Sun, 9/2 and the forecast was for rain and cold temps.
For once, the forecast was accurate and that's what we had. The water for
some unknown reason heated up to 19 C or 66 F but it rained Sat nite sob
all was wet when we woke up and it was lightly raining off and on.
I got up early and the hotel where we were staying had an early breakfast
starting at 3:30 for the athletes (both Sat and Sun). I ate and it was full of
men, only couple of loyal female supporters in sight. Got ready and headed
off to T1 to check the bike, and bike bag and get changed into the wet suit.
A half mile walk to the start corrals and found Donna. I went into the pens
and she went to the VIP area right next to the start. Diana, VP of World
Championship events and Andrew Messick, CEO of Ironman, were there at
the start and wished me luck.
At 7:30 the pro's went, then the disabled athletes, and then a huge group of 40 – 45 yr olds and next was the old men, over 70 category, 34 of us 70-74 and a few in the 75-79 group at 7:51.
The start was 10 guys every 10 seconds. You run about 50 yards to the water and then thru the breaking waves. I turned sideways for the first two and then dove under the third and was able to swim on from there. The water was pretty rough, probably the roughest swim I've ever done or at least can remember.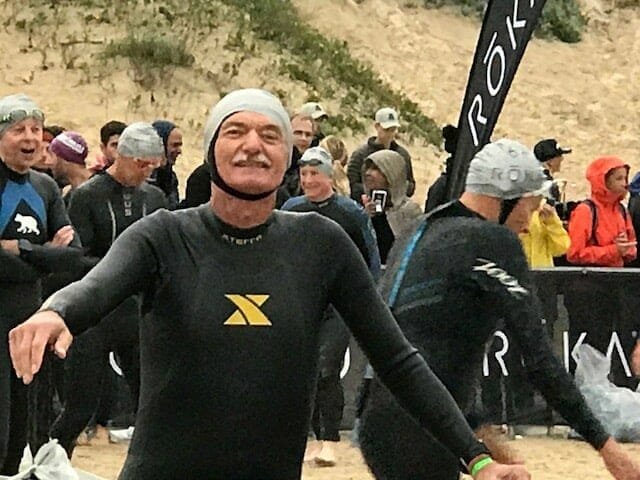 About a quarter of the way thru, my goggles had fogged over and I couldn't
see where I was going, so I stopped and let a little water in one eye to clean it up and from then on it was ok. The Indian Ocean was very salty, more than the Atlantic by far.
Came in and the breakers weren't too bad, so I didn't get tossed much, another 50 yard run to the mat officially ending the swim and beginning T1. A little father up they had strippers, not the good kind, but people who help you get out of your wet suit. You already have it down to your waist and you drop on your back and they grab it and peel it off you, help you up, hand it to you and you run on up and grab your bike bag, over to chairs, quick change, more volunteers help put your wet suit and stuff in the bag and take it as you run off to your bike. Diana and her admin assistants were there and she took my picture and wished me luck. Donna was not far away in the VIP section next to the bikes. Grab the bike, run it out to the mount line, and off I went!
The bike weaved thru town and then outlining area and then out into the country. All the roads were closed and there were police at cross roads letting traffic go across in between bikes when it was safe. Out in the country, every road, every driveway, everything had a volunteer or policeman making sure no vehicles came onto our roads. Never done in the USA.
Was a little cold but not too bad, and it was lightly raining. The rain
would stop for a few minutes, then start up again, off and on all thru the bike. It was much more hilly than we'd all been led to believe, and going down some of the hills, was very fast, I hit 33, 35, and 37 mph several times but had to hold it back often as there would be a curve at the bottom and I was afraid to let it go on the wet roads. If I could see the run out straight ahead, or only slight curve, then I'd let 'er rip. The young bucks who started behind me, fearless (or stupid) would fly by me, no regard to the curve ahead or the wet roads. By the way, NO women passed me, ever during the bike or run, that's how fast I was (or maybe cuz they raced Sat).
To make it fun, there were several places where there were speed bumps to slow cars, and made it fun for us to go up and over, downhill on wet roads.
Finally, 56 miles later, off the bike and into T2. They have catchers who take you bike and you run on into the area and grab your run bag, over to chairs, quick change, throw the bike stuff into the bag, hand it in, and run a long ways around all the bikes and out onto the road.
The run is two loops with a slight hill on one end and little bit
bigger hill on the other end, but only about a half mile or so up, not too bad. The roads again all closed and lined the whole way with people cheering everyone on. I got probably 70 or more calls of go Navy, go Brad, or go Navy Brad with my Navy Brad bike shirt on. One guy ran by me and said, Navy Brad, I saw you in Chattanooga last year. Too funny!
I knew one or two in my age group were behind me so I wasn't last in my age group, that always is a good feeling. I saw Donna several times
as we went by the T2/Finish area several times. Towards the end of the
run, the rain, light and off and on all day, got into a steady, heaver rain now.
Around the final turns and into the finish chute. My right thigh started to cramp with 100 yards to go. Not good, but I rubbed it and it stopped enough to get on in. The announcer called out my name and age group and the crowd, despite the rains, cold, and wet, was pretty large and all making a lot of noise. Fun time running down to the end.
Got my medal, towel, hat, and a silver reflective thingie to try and warm up some. Donna was along the fence there and met where I came out. We went over to the line to get the bike back, and the 3 bags, morning, bike and run. She took them back to the hotel and I rode the bike a half mile or so to where TriBike Transport was set up. Pedals off, air cartridges out and given to charity, and said good by to the bike.
Walked back to get my athlete food, great hamburg and fries, probably half cold and soggy but tasted great. It then started to rain even harder so I went to the VIP tent and waited until it let up to a light rain again and then walked the mile or so back to the hotel and a long hot hot shower.
That evening was the awards banquet, a few drinks, great video's of the pro women, pro men, and a third on the age groupers, part on the women and part on the men. Fun evening and then we got invited with Diana to their "thank God it's over" party at a local restaurant.
Lots of big names in the tri world there, Mark Allen and Dave Scott, each 6 time winners in Hawaii (the Arnold and Jack of tri), Paula Newby Fraiser (8 time winner), the announcers, and a ton of others, fun evening. Great, nice folks who talk to you like they'd known you all their lives. Finally, snagged a ride home as still raining and to bed about midnight.
By the way, they've had a drought here for a long time, ask you not to flush often, not to take long showers, etc, and now rain all day, go figure huh.
Numbers:
Swim: 45:51 (officially longer cuz of the run out, my time includes the run in), 2353 yards, or 1.34 miles, 1:57/100 yds,
T1: 5:40
Bike: 55.96 miles, 3:29:13, 16.0 mph avg, ht rate 122 avg, 182 max, about 2477 ft of climbing
T2: 4:50
Run: 13.1 miles, 2:33:40, 11:06 min/mi, ht rate 133 avg, 158 max, about 328 ft climbing
Total time: 6 hr, 50 min, 00 sec
16th out of 26 who started in my age group (8 more did not start for some unknown reason)
16th out of 23 who finished (3 stopped after the bike or have no run time anyway)
---
Brad Kirley is from Virginia. He is 72 and retired. He lives on a lake with his wife, Donna. They have two children and six granddaughters.