Zealios Betwixt Skin Lubricant
Have you ever had saddle sores? If not, it's no fun. And, if you have had that experience, you know that it is painful and holds you back on your training.
My first year of triathlon training, I got the sores. No one ever told me to put anything on my chamois, the insert in a pair of cycling or triathlon shorts. So how would I know?
It was incredibly painful and at that time, my coach told me to deal with it, so there was no rest or healing for the weary. But, as I started to learn more about the sport, I realized that it is essential to put some type of chamois cream on your chamois before you ride, no matter what the distance.
I've tried a few of the brands out there, but to be honest, I really like the Zealios Betwixt Skin Lubricant for my chamois cream.
A couple of things I like about it:
The scent is not strong, yet it has a pleasant aroma.
The jar is awesome. I find that with the tubes, you can't get everything out. The jar makes it easier to apply on.
Wide mouth on the jar for easy application.
It's all natural and there are no chemicals or preservatives so it doesn't hurt or burn your sensitive spots.
You apply it on your chamois like this: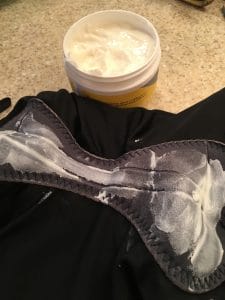 The more you put on the better! It won't rub and cause problems.
The first time I put on Chamois cream, I felt a little wet and uncomfortable. However, after getting used to it, it beats the alternative of getting saddle sores!
I really like the Zealios products, that's why I approached them to sponsor the team, WeRTriathletes. I've reviewed their shampoos and were totally impressed with the calibre of their products. Betwixt is no different. It's a superior product that glides on your chamois easy and protects you from the discomfort associated with the bike saddle. Happy riding!