I'm so excited to announce that my publisher, Cardinal Publishing Group, is selling my book, From Couch Potato to Endurance Athlete – A Portrait of a Non-Athletic Triathlete on their website for 25% off the retail price. That's a significant saving and this "sale" will last only through January 31, 2023.
They are doing this because now is the time to realize your goals for 2023 and make a change.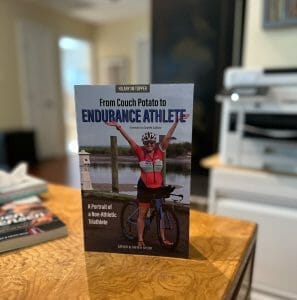 Do you need motivation or inspiration to do that?
My book is a memoir about being pushed down and picking yourself back up again and again. Come for a ride through the past 10 years. Learn about how I dealt with personal and professional obstacles all while training for a triathlon.  Get motivated and inspired to get out of your comfort zone!
Here's what people have said about the book:
"This book was like listening to a friend telling her story. Her journey from her first foray into running all the way to swimming long distances, running a marathon, multiple triathlons, and becoming a coach inspires those of us, who may not see ourselves as athletes, to consider doing things that might scare us while enriching our lives! I would recommend this book to any woman who might be considering trying out endurance sports!"
There have been so many wonderful reviews and to me, it makes me feel so good to be touching someone's life in a positive way.
Jason Bahamundi of Run Tri Bike said:
"From Couch Potato to Endurance Athlete will resonate with every reader because it is a book about endurance sports as a conduit for life versus being an endurance sportsbook…Our sports are hobbies, but they teach us a lot about life. We learn to celebrate the victories but not for too long. We figure out that 'failure' is a stepping stone to success. Life is here to be lived and as you turn the pages of Couch Potato to Endurance Athlete, you'll remember your why and will get out there and live it."
Want the discount?
Buy the book this month only for 25%  of by going to Cardinalpub.com and using the code GET25!