Why did you decide to start triathlon training? What was your why?
I had run the NYC Marathon in 2016 which was 4 years after my first brain surgery.  I was looking for a new challenge and a friend talked me into triathlon.  My journey had to wait a year because of a 2nd brain surgery in 2017.  I love the challenge of triathlon training and being able to show my son that when you set a goal and work hard there are no limits.  I also raise money for The Jack Martin Fund for pediatric oncology at Mount Sinai hospital when I race which is my other big why.
What year did you start?
2018 was my first year actually racing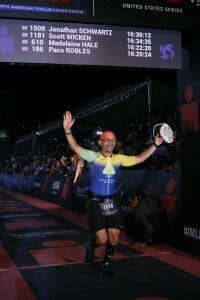 Were you athletic growing up? If so, what sports did you play?
I was a golfer and soccer player growing up.  Golf was definitely my first love and my passion
What was your favorite race or your greatest achievement? (Could be running or Tri.)
I just completed Ironman Lake Placid which happened to be on the 5 year anniversary of my second brain surgery
What were some of the challenges you faced and how did you overcome them?
A cluster headache diagnosis in September of 2021 forced me to change everything.  I switched to a low-carb diet to help alleviate the headaches which was a huge change for an endurance athlete.  That wound up being a blessing though! I also have to be very mindful of my heart rate while training which eliminates any and all speed work.  I also went through a period of open-water swim anxiety which I overcame by working very closely with a mindset coach specifically using visualization techniques.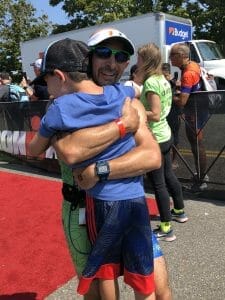 Tell me about yourself. Are you married? Children? Ages? What do you do for a living?
I am married for 18.5 years to my wife Lori.  I have a 13-year-old son named Jordan.  They are the best support crew anyone could ever ask for. I am a Long Term Care Insurance Consultant.