A few months ago, I went to the adidas outlet in Deer Park, Long Island, and bought myself my first tracksuit. It was thrilling because I never ran on the track team, let alone ran track in High School. As you know, I started running at 48 and started competing in triathlons at 53. So, I had a lot of catching up to do.
I always wanted a tracksuit. They looked so cool. Yet, because I didn't run track, I felt I couldn't buy one. (Plus, I couldn't afford it.)
The feeling of wearing a tracksuit meant more to me than just being fashionable, it represented pride in taking initiative and responsibility for my health and well-being. I liked the suit so much; I bought another one. Now, I have four tracksuits from adidas.
Adidas Reached Out to Me
Interestingly, adidas reached out to me to ask if I would be interested in a blogger program. Since I was already brand loyal, I agreed. This was after I purchased my third suit.
I went on the adidas website and scrolled through their sale items and non-sale items, choosing the following items to review on this blog.
To preface this blog post, I placed the order and one day, the order came to my home. There was one piece initially missing. I called adidas. They were so helpful and informed me that the hoodie was on its way. (When I looked at my emails, they also sent me an email confirming that I would get the item the next day.) Now that's customer service!
For review on this blog, I got the following items:
TLRD IMPACT TRAINING HIGH-SUPPORT BRA –   for support during high-intensity workouts or speed intervals. This bra provides great support and coverage, making it perfect for any kind of workout. I find that some supportive bras slip over your head, and I find them impossible to put on, especially when you have a larger chest. This was easy. The best part, it's only $39 on the adidas website.
Pair of Ultraboost Light Sneakers – for running and walking. The cushioning on these shoes is great and they provide a lot of stability for my feet. They have a 10mm drop from heel to toe making them ideal for anyone with Achilles Tendonitis issues. Made of recyclable materials, the Ultraboost Light is adidas' lightest sneaker, made with 30% lighter BOOST material. Each tiny capsule within the midsole works together to deliver epic energy in every stride. They come in ten different colors. I got the white one with green stripes. I can't wait to take these out and check them out. The price is $190.
Pink tracksuit – for running outside and for leisure wear. I also wear these tracksuits to the pool or the open water. They are super comfortable. The one I got was the ADICOLOR CLASSICS SST TRACK JACKET priced at $75 and the ADICOLOR SST TRACK PANTS  priced at $65.  They come in three colors, pink, red, and black.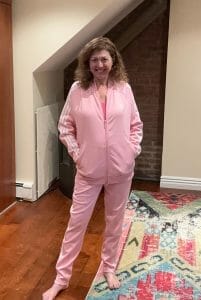 Violet fusion sweatsuit – which consisted of both the ALL SZN FLEECE PANTS and ALL SZN FLEECE BOYFRIEND HOODIE—  to wear before my workout or after my workout. It is snuggly and super comfortable, making it ideal for any kind of weather. I plan on wearing these to the gym and to open water practice. The price of the pants is $48, and the hoodie is $52.
I'm so glad I chose adidas for my workout gear – their products are top quality and provide the best comfort and protection for my body. Plus, they look good too!  I recommend them to any athlete out there looking for gear and wanting comfort. Thanks, adidas!