If you want to get inspired, you should pick up the book, Triathlon! A Tribute to the world's greatest triathletes, races and gear by Matthew Baird. This oversized table book is more than 350 pages in length and has the most sensational photos you will see all wrapped up into one book!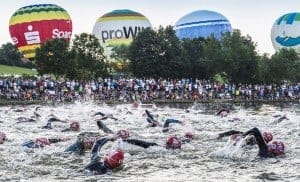 The book is a celebration of everything triathlon. One of the greatest triathletes in the world, Mark Allen, who is a six-time Ironman Triathlon World Champion writes the forward. Following that, there are dozens of world famous triathletes that are highlighted and go on for 100 pages. Triathletes like Simon Lessing, Greg Welch, Paula Newby-Fraser, Chrissie Wellington, Scott Tinley, Miranda Carfrae, Julie Moss and the Puntous Twins are all included in this section. Baird talks about highlights and includes awesome photos from their events.
Following that, there's a section on triathlons. Here, Baird showcases some of the world's finest triathlons and it makes for an amazing resource for those who love to travel. You name the race and it will probably be in this section. Races from the US and around the world are included. I've been particularly interested in the Vineman and the Chicago Triathlon races and happily they were part of this section.
After the races, which takes up more than half of the book, there's a whole section on gear including bicycles, running shoes, tri kits, aero bars and more.
If you love triathlons, this is a book to grab up! It's perfect for a coffee table or you can put it on your bookshelf and refer back to it time and time again. It's a perfect resource for everything Triathlon!