This month marks my one year anniversary in triathlons. My very first triathlon was at the Captiva Triathlon on September 9, 2014 in Ft. Myers/Sanibel. Since then, I've completed nearly a dozen triathlons.  And during the past year, I realized that it's more about the journey than the actual destination.
I love to swim, cycle and run. But nearly a year ago, I only ran. This past year, I learned how to swim and learned how to ride a bike.  (And I still have a lot more learning to do.)
I find that most of the time, I do my trainings alone. Some would call me a lone wolf, but I like it.  It clears my head and makes me focus on one thing. That's not to say that demons don't get in the way. For example, I often hear, "you're really not good enough to do this!" or "stop running you're too tired to go on." Sometimes, I listen and then other times, I try to put these thoughts in the back of my head, one of the hardest things to do. However, when you have supportive people in your life who understand what you are going through,  it makes it much easier to get rid of them!
Marti DiPaola started the journey with me. We had been running partners for a few years prior to and trained for a couple of half marathons. She's been an amazing support to me. Whenever I'm down on myself, she's always there to pick me up. We make a good team and if I'm not training alone, I train with her.
Marti and I seem to get into kooky situations. Like the time that Marti taught me how to pee outside when there is no bathroom in sight.  (Don't even ask, but if you do a search, you will find the blog about it!) Or, when we went down to Captiva for our first triathlon and she was given the number 666 and refused to wear it.  (They eventually, after a lot of dispute, gave her another number.) Or when we both felt burnt out from all the training and decided to go to a Chinese massage center.  When they took us into separate rooms with no doors and I was telling the masseuse to stop, that it was hurting, she didn't hear me because her masseuse put her to sleep.  I was in pain for two days after that.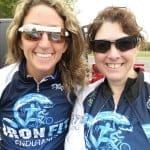 Then there is my coach, Danielle Sullivan of Iron Fit Endurance, who definitely puts up a lot with my neurosis and race anxiety! She is an incredible person. She always finds the good in people and in situations.  I've never heard her say anything bad to me about a workout or about a race, even if I was down on myself. There's definitely something to be said about keeping positive people in your life!  The other thing that I love about her is that she is eager to work with her athletes. I've met her nearly a dozen times over this past summer to work on everything from aero bars to swim techniques to even running drills!
The people I have met through this journey have been incredible.  When I pulled my hamstring, I was introduced to Sharon Levy of Excel Physical Therapy and Workout. She became a good friend and mentor to me.  She's an amazing athlete and taught me a lot about strength training and its importance to getting faster and building endurance. The other day, we went for a swim together and she showed me some really great open water tips, which I plan on implementing into my next race strategy.
I also joined the Brand's All Women's Tri Team this year.  AWTT, run by Megan White and Lisa Laws, is an amazing group of women who are so incredibly supportive of each other.  There are some real rockstars on the team.  Actually, I have to say that everyone on the team is a rockstar. At the Open Sky Training Camp run by Ed Gabriels a few months ago,  I bonded with many of the women, including: Diahann, Star, Gail, Allison, Dereka, Lisa, Shidah, and Jamie.  I have never laughed so much in my life.  From climbing up some major hills on the bike to swimming in a beautiful lake to eating amazingly delicious food, it was probably the best experience I had this summer! The thing that I love most about this group is that everyone is very accepting and although many of us are on different levels, we can still train together.
Then there's Open Water Swim LI run by Bryan Krut and Christine Biondi.  I've been swimming with them in the open water at Robert Moses State Park and at Hecksher State Park.  Both experiences have been incredible.  In the beginning of the summer, I wouldn't even put my face in the water.  Danielle Sullivan (Dee) took me to Tobay and patiently showed me some tips on feeling more comfortable in the water.  Swimming with Dee and Iron Fit Endurance at Tobay and swimming with Bryan, Christine and the rest of the OWS LI team this summer, has put me at ease in the open water.
There are times though that I do have the passing thought that a shark might get me and, as a matter of fact, when I was swimming at Hecksher a couple of weeks ago, my Iron Fit Endurance teammate, Jackie Lott crashed into me as I was swimming in one direction and she was swimming in the opposite direction. When that happened, I yelled SHARK. I really thought for a moment I hit a shark!  (It's funny how I never bump into anyone else at the OWS sessions except for Jackie and JB, also on Iron Fit Endurance.)
A few times, Diahann McFarlane of AWTT met me at Hecksher Park for a swim and a bike.   One time, she brought Donna Hallaway with her and the three of us went in together.  After that, we rode and when we got back to Diahann's car, it wouldn't start.  Funny thing was, I had car troubles in Germantown, where Open Sky Training is located and Diahann was helping me through that. Donna told me to put my foot on the gas while the jumper cables were on Diahann's car. I pumped the gas and nothing happened.  When a random man said, "let me do it" and put his foot on my gas for a long time.  Diahann's car started to run!  I looked at Donna and she looked at me and said, "Hilary, you know nothing about cars do you?" I laughed and told her that funny thing is, my dad was an auto mechanic!  We all laughed.
As the season winds down and a group of us from AWTT are planning to do the Nation's Tri in Washington DC, I just want to say that the journey during the last year of me being involved in Triathlons has been an amazing experience.  And, most importantly, it's about the journey and not so much the destination. Thanks to all who have been part of my journey, even if I didn't mention you here, you still mean a lot to me!