In the 1980s, there were four triathletes that dominated the space. They were known as the "Big Four," and included Dave Scott, Mark Allen, Scott Molina and Scott Tinley.
Background on the Big Four
These four triathletes won collectively seven Ironman World Championships, five Nice Championships, two World's Toughest titles, and every USTS National Championship through 1986. Dave Scott won Ironman World in  '87 and Scott Molina won it in 1988. Mark Allen won it in 1989, and bring another 6 Ironman World Championships to their list and another five Nice Championships. (And I'm sure there were more! As a matter of fact, my friend and teammate, Brad Kirley corrected me by saying that Dave Scott and Mark Allen won 12 IM championships alone!)
Dave Scott, Mark Allen, Scott Molina and Scott Tinley were on fire. Nothing was going to stop them back then.
Now they are in their 60s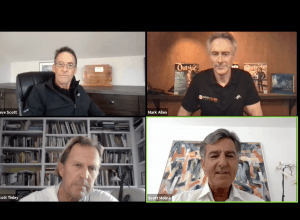 Now, the Big Four are in their 60s were together again at the Endurance Exchange hosted by USA Triathlon in January 2021.
The Big Four appeared on Zoom in their respective homes asking each other personal questions to an audience of thousands.
What they talked about
Dave Scott talked about his years of depression. "the demon still comes up. They never go away but I'm not in that dark tunnel any more."
Mark Allen continues, "we all had struggles. Nothing was given to us. We may have had a genetic toolbox, but we still had to work hard to get to where we were."
When asked why Scott Molina did what he did, he said that he did it for the paycheck.
And Scott Tinley talked about how his outrageous look during those early triathlons wasn't really him. "I did it to try to keep my business going," he says. "I had a clothing business  and I used triathlon to get the word out about the brand. One time we had an oversized doll at the event. That doll helped sell clothes to get my kids through college."
The Big Four agreed, "it was wonderful to have people pay to go amazing places."
What have they been doing?
Scott Molina got this feeling that he should stay connected and continued racing a little. Mark Allen, once retired, never toed the line again. Molina asked him, "why not?"
"I love exercising and being outside," said Allen. "If I kept up at that same level, I don't think I would be here today. And, now, I feel good. If you lack a purpose other than racing, how do you replace with something else? I love to surf, coach, speak, and stayed connected to the sport. I think I would feel weird if I wasn't connected in some way."
Dave Scott and Mark Allen are Ironman ambassadors.
"I wouldn't consider racing again," said Dave Scott "I love to exercise because of health but I would leave it there."
Takeaways
It was awesome to see the Big Four together again. They let down their guard, shared what it was like when they were in their prime, and how they are doing today. It was so interesting to see them in a different light! Thanks USA Triathlon for putting on such a great conference!